For struggling, help can't come soon enough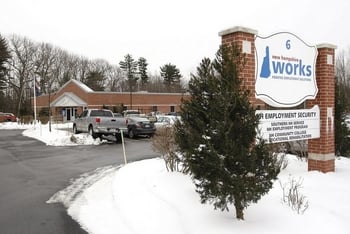 George LeBlanc knows a change of administration in Washington won't make things better for him, at least not in the short term.
"I don't know what he's going to do to make new jobs for guys like me. I'm a cook," said LeBlanc, who recently was laid off as a chef, his profession for 23 years.
"I'm scared. I've got a family to support, and rent's due," LeBlanc said as he stood outside the N.H. Employment Security office on Townsend West Street.
LeBlanc most recently worked for a hotel in Lowell, Mass., which let workers go as the number of vacancies rose.
There are jobs out there for experienced chefs, but LeBlanc said it seems there are 50 to 60 applicants for every job.
Yet, LeBlanc took enough of a break from his job search Tuesday to watch the inauguration of Barack Obama as the nation's 44th president.
LeBlanc predicted that Obama will serve two terms, but he doesn't think there will be much economic relief even after eight years.
However, LeBlanc is hopeful that Obama will "pave the way for a big change" that will benefit the nation in the long run.
Throughout Nashua, many unemployed and otherwise struggling residents greeted this historic day with such cautious optimism. Many seemed to welcome the change of leaders and parties in the White House, while not expecting the new president to work miracles.
Coincidentally, the state employment security office released its latest employment figures Tuesday. The numbers bear testament that the economic challenges Obama faces nationally are also playing out here locally.
New statistics show New Hampshire's seasonally adjusted unemployment rate for December 2008 was 4.6 percent, an increase of 0.3 percentage points from the November rate.
That's more than 1 percent higher from the previous December.
The number of unemployed residents increased by 2,020 over December 2008 to 33,830, according to state labor statistics. This was 8,540 more unemployed than in December 2007.
From November 2008 to December 2008, the total labor force decreased by 2,900 to 739,480. This was a decrease of 1,080 from December 2007, according to the state statistics.
At the Nashua Soup Kitchen & Shelter, several people waiting in line for food bags said they celebrated, or at least welcomed, Obama's presidency.
"Doors will start opening," said Steve Johnson, 45.
"I think it will make a big, big difference. Whether he's black or white or anything, it doesn't matter. He's the man," said Anthony Parry, 46.
Certainly, not everyone unemployed or otherwise struggling supported Obama, or even cared enough about politics to give the inauguration a passing thought. However, no one approached Tuesday afternoon admitted to that, though a number gave a simple "no comment" when asked their thoughts on the change in administration.
Obama supporter Marixsa Contey, 38, said she got choked up watching the inauguration.
"I was crying watching it with my family; we were all crying," Contey said.
Standing in line at the soup kitchen, Contey shed some more tears talking about the historic moment.
At the Connections program at Harbor Homes, volunteer Luis Escalera celebrated Obama's inauguration.
"It's going to be a big change," Escalera said, but added, "I know he can't do it all at once."
The economic mess has been brewing a long time, even back to the Clinton years, he said.
"It not just one person. You can't blame it all on Bush," Escalera said.
Mark Ruiter, 57, watched the inauguration. He thinks it's important that the new administration keeps a watch on whose pockets any economic stimulus money goes into.
Ruiter thinks Obama will do a good job as long as he "lets people know where the money comes from and where it's going."
Volunteer Amy Salois, 29, said now that he's in office, it's up to Obama to show he can get the job done.
"Only time will tell," Salois said.
"He's already spoken it. Now he has to do it."
New Hampshire Employment
In the 12 months leading up to December 2008, New Hampshire shed more than 1 percent of its jobs, according to the state data. Virtually all categories of private employment shed jobs; a few of the largest losers are shown below. The only major categories of employment that increased over that period were local and state government.


| | Dec. 2007 | Dec. 2008 | Change |
| --- | --- | --- | --- |
| Total Jobs | 660,500 | 653,300 | -7,200 |
| Manufacturing | 78,300 | 75,200 | -3,100 |
| Retail | 103,700 | 102,110 | -,600 |
| Hospitality | 61,000 | 58,500 | -2,500 |
| State Government | 25,800 | 27,100 | +1,300 |
| Local Government | 64,600 | 52,700 | +1,100 |