For residents, little to do but watch, worry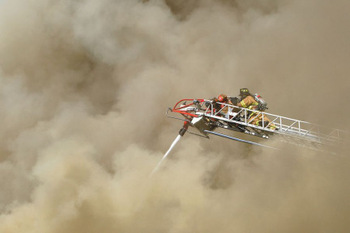 NASHUA – Nathan Duran awoke Monday morning to firefighters pounding on the door of his second-floor apartment, he said.
The building at 126-128 Vine St. was on fire. Duran fled his home wearing only a blue bath towel. Neighbors helped outfit Duran with more seasonally appropriate attire, and he used the towel as a head covering while he stood on the corner of Vine and Nevada streets and watched the building burn.
A crowd gathered there and at every other intersection with a view toward the four-story building at Lake and Vine, which burned out of control for several hours Monday morning.
A heavy cloud of charcoal and ash colored smoke poured up into the sky, drawing onlookers from all over the city.
"It's like 9-11; that's what it reminds me of," said one man, who walked down from his home on Central Street.
Duran spoke with a reporter through the help of another man, who translated. While watching the fire rage, Duran was dismayed at the prospect of losing all he owned.
"My papers, everything," he said in English, gesturing dismissively.
Later, Duran expressed hope that his home and belongings might be salvageable. The building's asbestos siding wouldn't burn, and from the outside, the lower floors looked largely intact.
Other residents, and the owners of two businesses on the ground floors, were less hopeful.
Another second-floor resident said he was at work in Manchester and his wife was home with their two children, ages 3 years and 2 months, when the fire broke out.
"My wife called me. She told me fire in the apartment," he said. "She's crying now."
First-floor resident Dagoberto Medina said he noticed the lights flickering on and off, and assumed someone was working on the electrical service. Later, he smelled smoke and the building's alarms began to sound.
Medina and other residents who were home when the fire broke out said it appeared to have started in the convenience store, Olga's Express Mini Mart. The store's owner, Olga Gombins, had closed up the store at about 8 p.m. Sunday night and went work at her other job at Wal-Mart in Amherst. She had planned to reopen her store around 11:30 Monday morning, but friends called and told her the building was on fire, she said.
Gombins had only recently been discharged after two weeks in the hospital, battling an internal infection, she said. During that time, she said, her insurance for the store lapsed.
"I lost everything," she said, including at least $100,000 worth of equipment and merchandise for the store.
Gombins had owned the store for about three years, she said.
"I don't feel too well," she said. "I am sick."
The Dominguez family owns a clothing store, Fernando's Center, next to Olga's, and also feared the fire would prove catastrophic. Fernando and Maria Dominguez had just got there to open the store when they noticed smoke from the store next door and called 911, their daughter Paulina Dominguez said. The building's alarms were sounding, and firefighters were on their way while Fernando Dominguez was still on the phone, he said.
The fire moved fast, too.
"It was very rapid, the flames and the smoke," Paulina Dominguez said. "Everything like the clothes, I think, is lost."
The store sold clothing and music, and offered check cashing and tax preparation, Fernando Dominguez said. He had insurance on the store, he said, and the family was thankful that no one was hurt.
Many residents were away at work, and those who remained evacuated without trouble or injury, residents and fire officials said. Firefighters also rescued a dog from one apartment.
Want more photos?
Henry Tully was in his third-floor apartment when the building's smoke alarm sounded, and when he reached the second floor, he could see smoke in the hallway. The building was mostly empty because most tenants had left for work, he said. Tully lost an assortment of NASCAR collectibles valued at more than $2,000, he said.
Two of the building's 17 apartments were vacant, said Richard Jean, owner of Central Realty property management company, and the fire displaced a total of about 30 people, Red Cross Emergency Services Director Ashley Pushkarewicz said.
Jean was rounding up other available apartments for residents while the fire still burned, he and residents said, and the Red Cross helped most residents mainly with food and clothing, Pushkarewicz said. Most of the building's residents lost everything, she said.
Pushkarewicz and seven volunteers, including some Spanish-speakers, went around the neighborhood looking for residents, taking down names and handing out blankets. Red Cross volunteers and fire investigators interviewed several residents in the comfort of the nearby Lake Street convenience store, where the owner welcomed people looking for a place to warm themselves.
Fire in a building that size will stretch the agency's resources, Pushkarewicz said.