For PSNH, cost is $10m and counting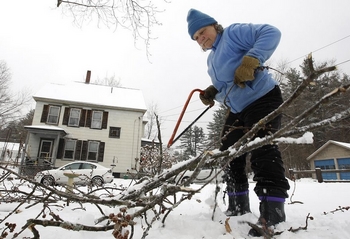 The massive restoration of utility lines across the state has already cost Public Service of New Hampshire more than $10 million – and its customers will eventually pay for it.
PSNH President Gary Long said Wednesday the price tag for the ice storm cleanup is far from final with work probably continuing for weeks. Rate increases will eventually be spread over time so that customers don't immediately get whacked, he said.
PSNH has insurance for storms, but recovery costs from this one exceed the coverage, Long said. He didn't specify the coverage amount.
He added that customers who have lost food and other items because of extended outages will not receive a rebate. For that to happen, all PSNH customers would have to bear the cost, he said.
As of 3 p.m. Wednesday, PSNH had restored power to roughly 260,000 customers, with 64,000 awaiting restoration, Long said.
At its peak Friday, in the wake of the ice storm, PSNH had 322,000 customers off line, he said. PSNH has 490,000 customers.
Long deflected Gov. John Lynch's criticism that the state's utilities needed to improve the way they communicated when power would be restored to the tens of thousands customers in the dark.
Lynch didn't name any of the state's utility companies in his criticism. But on Tuesday, the day of his comments, he met with PSNH officials in Peterborough after the town manager had expressed concerns about the flow of information.
"The governor has been nothing but positive to me," Long said. Lynch's statement was "not familiar to me. I've heard nothing but praise from officials."
PSNH has provided daily updates on the number of customers lacking power, but didn't offer estimated target dates of restoration until Tuesday.
For residents still without electricity, estimates aren't enough.
Long and other PSNH representatives have said that offering specific dates would be unfair to customers because the daunting task of identifying outages, freeing lines of debris and reconnecting wires takes time. If customers were promised exact times, they would be upset if power didn't come back precisely then, PSNH has said.
On a media conference call with Long, PSNH Director of Energy Delivery Steve Johnson said he was "trying to avoid" the question of whether customers would still lack power when Christmas arrives next Thursday. PSNH doesn't like to have any of its customers without power, Johnson and Long said.
But Johnson later said that although he couldn't provide a specific number, there will be "far less" than 65,000 customers without electricity Christmas Day.
Crews have replaced 55 miles of wire, nearly 500 transformers, and 9,700 fuses, PSNH said.
The Monadnock and greater Nashua and Derry regions were the hardest hit, and now that work is mostly completed in other areas, more crews are moving into those distressed towns, Long said.
More than 725 line and tree crews have worked across the state, Long said. The company has only about 100 such crews, so the majority have come from all over the country and Quebec.
"What we've learned is we can handle a storm this large," Long said. The outage was "three to four times larger than what we've seen before. We managed this storm with our normal management team, and asked them to handle three to four times the work force, including the out-of-state crews."
Although Long denied hearing Lynch's criticism about better publicizing restoration times, he earlier had said PSNH has "learned along the way to do community outreach." That has included "mobilizing" to cities and towns to see if there were ways information could be shared more rapidly, he said.
Repairing and rebuilding electrical infrastructure in hundreds of towns initially meant identifying problems, so information wasn't readily available to pass along, Long said.