For new teacher, smooth start to second career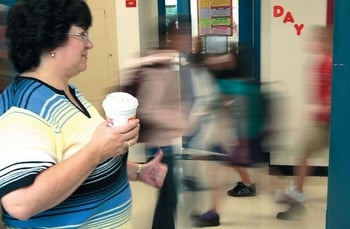 EDITOR'S NOTE: This is the second story in an occasional series following Joy Whitaker during her first year as a teacher.
HUDSON – The 20 students in Joy Whitaker's sixth-grade class weren't the only ones at their first Hudson Memorial School class Tuesday morning.
Their teacher was opening a new chapter in her life too – a chapter that comes after a long career in the private sector.
By 7 a.m., about 45 minutes before students arrived, Whitaker was striding through Hudson Memorial School's hallways with a bagel and coffee, saying hello to fellow teachers and checking her mailbox.
Eventually she made it to Room 123, her classroom. She checked her e-mail, read a card left there by another teacher and put out the "good luck" roses her husband had given her.
At 50, Whitaker, of Merrimack, is one of the Hudson School District's new teachers this year. Teaching is her second career after spending the last 20 years working for phone companies. She spent the last seven years taking night classes to earn her master's degree and landed a sixth-grade English teaching job.
But even with as much as she was looking forward to the school year, nerves weren't an issue, even when around 7:30 a.m. shouts started echoing down the halls and through the windows from outside.
"It's taken a long time to get here. Why would I be nervous?" she said.
She's spent a lot of time here this summer. She estimated she's been in her room for the better part of 12 workdays this summer, cleaning, finding supplies and decorating.
"I tend to overprepare. I think this is going to go really easy. I just hope I remember everything," Whitaker said. "It's funny. I don't think people realize how much time teachers spend setting up."
There's also the time at home, reading and researching, thinking of ideas for things to do in class and ways to make students comfortable as soon as possible.
The last few days Whitaker has spent reading the Independent Education Plans and 504 plans for some of her students. Special education students each have an IEP and some have 504 plans, which detail accommodations they need for successful learning.
"The only thing I'm worried about is that I'm going to forget to tell them something they really need to know today," she said. "But nervous? Me? Nah. I've waited way too long for this."
By 7:45 a.m., students started trickling into the classroom, Whitaker was off to the races, introducing herself, and going over school and classroom rules, expectations for the year and logistics like schedules and locker assignments.
"I want to be here. I want to teach. It took me a long time to get here," she told the class.
Everything went according to plan the first day, Whitaker said about half-an-hour after the kids went home. Although, she made no promises for the rest of the week once the school year picks up steam.
"For me it went OK," she said. "The first day and I had pretty much everything I needed. I think it went well. Of course, this was just the first day."
Sixth grade is a tricky time for students, Whitaker said. They're dealing with changing bodies and social structures, and school just becomes very different. They're switching classrooms virtually every period. They're expected to learn the building and their schedule, develop time-management skills, and be generally more independent than they've ever been, she said.
"I just really hope it's a good experience for them because this sets the tone for the rest of middle school," Whitaker said. "I felt kind of bad for some of them because they were so lost. You know, they're not having their hands held anymore."
Principal Sue Nadeau said Whitaker is one of several middle-school teachers who have come from other careers.
"They do come with a certain assurance, a certain confidence," Nadeau said. "I think (Whitaker) brings a maturity to the profession. I think for all first-year teachers there's that nervousness. They're so excited. They so want to be teaching these kids and using their craft."