For Nashua man, day has a dual meaning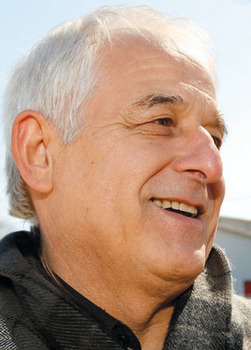 NASHUA – Forty years ago, Evangelos Valeras boarded an ocean liner at Port Perea, near Athens, Greece, and waved a handkerchief to loved ones below.
The 22-year-old, who had spent most of his life in a small village bordering Albania, was at last setting off for America, carrying with him a set of mixed emotions.
Farewell to one country. Hello to another.Turns out, the 10-day trek across the Atlantic Ocean was "the most wonderful trip in my whole life," Valeras said, because it brought him here.
The now 62-year-old Nashua resident recalled his story on Wednesday, after squinting in the midday sunlight to watch the blue and white flag of Greece climb up a pole outside City Hall.
Valeras and about a dozen others gathered to recognize the 188th anniversary of the country's successful fight for freedom from the Ottoman Empire.
Every year, Valeras reflects on the special, double-meaning of this time: Greek Independence Day and the anniversary of his own coming to America.
"When I saw the Statue of Liberty, I was so excited," Valeras said. "It was a childhood dream come true."
Valeras' oldest brother arrived in 1952. He got married, put down roots. His parents joined Valeras' brother 10 years later.
Evangelos and his own twin stayed home in Greece. As teenagers, they worked the plumbing and heating trade. Finally, they served out their mandatory, two-year military requirement.
By 22, Valeras had wrapped up his time in Greece and found himself aboard the ship west. That year, 1969, his entire family celebrated Easter together for the first time.
Valeras has since settled happily in Nashua. From Hellenic Circle on Wednesday, he reminisced about the old West Pearl Street neighborhood – at one time stuffed to the gills with Greek butcher shops, markets, barber shops, diners and coffee houses.
"This was a small section of my country," Valeras said. "It was easy to adapt. Greeks here were united. A small piece of Greece was right here."
Along the way, he met a "Yankee girl," – Cathy – and they had three children.
After 34 years working at a company that manufactured medication bottles, Valeras recently took an early retirement.
He still finds the time to go back to Greece each summer, but always comes home happy.
"God bless New Hampshire," Valeras said. "I like the woods and the trees and the mountains."