Flotsam & Jetsam: The gang that couldn't run straight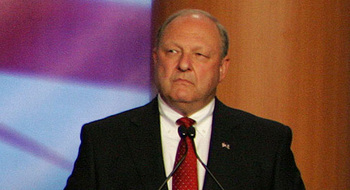 Things seem to be going from bad to worse to worser for the beleaguered chairman of the state Republican Party, Jack Kimball.While he's seemed a little bit steadier at the helm in recent months, his tenure has been tenuous, what with a number of foot-in-mouth moments — including a recent one in which he claimed that soldiers killed in Iraq and Afghanistan would have died "completely in vain" if President Obama is re-elected.But it's been Kimball's so-far-failed attempts to play catch-up in the money-raising department that's raising the eyebrows and hackles of Republicans. As owner of an office-cleaning company, he is a businessman, after all.Of course, money isn't everything, even in politics. What is everything, however, is winning. And under Kimball, the party has suffered a series of defeats in special elections.It's even managing to get embarrassed in its own primaries.In a July 5 special GOP primary, Seabrook firefighter Kevin Javrin won the five-way race over favored Hampton Falls businessman and former state rep Lou Gargiulo, by a formidable 118 votes.The embarrassment comes from this fact: some of the party's heaviest hitters were behind Gargiulo, including former GOP State Chairman John H. Sununu, his son Executive Councilor Chris Sununu, 2010 gubernatorial nominee John Stephen and former Senate candidate Ovide Lamontagne.But apparently the message wasn't getting out. And to make matters worse, much of Javrin's money came from organized labor, including the national firefighters union, the electrical workers union giving and the State Employees Association.Which means it's pretty likely that the Republican nominee is probably not on board when it comes to House Speaker William O'Brien's obsession with enacting right-to-work legislation.Panel discussionLost in the shuffle in the closing days of the legislative session was the signing into law by Governor Lynch of House Bill 178, which requires the formation of yet another panel — composed of five lawmakers — to look into the state's handling of the Financial Resources Mortgage Inc. Ponzi scheme.Sponsored by father-son Reps. Marshall and Matthew Quandt, the bill calls for a committee of three representatives and two senators to "study issues regarding Financial Resources Mortgage, Inc." Its findings and recommendations are due by Dec. 1.You can make of it what you wish, but Matthew Quandt acknowledged to the Laconia Daily Sun that the new panel would draw on the earlier reports rather than undertake "any extensive interviewing or investigation."Fighting fire with fireThe victory of Seabrook firefighter Kevin Javrin in a five-way special July 5 GOP House primary has apparently rubbed a few stalwart Republican reps the wrong way.Actually, that's putting it mildly.Right after Javrin's victory, a number of them turned to Facebook let the world know that the firefighter wasn't one of their own — or at least they don't consider him one of their own.Suffice to say that the fur was flying shortly after House Majority Leader D.J. Bettencourt posted a comment congratulating Javrin and urging support for his candidacy.While comments ranged form Rochester Rep. Fred Leonard's declaration that Javrin "is poison and we should turn our backs on him" to Rep. Al Baldasaro's, "Does anyone know if Kevin was a registered Democrat before he ran as a Republican? (Memo to Rep. Baldasaro: Didn't your speaker of the House dabble in Democratic politics at one point? Just asking.)But perhaps most interesting — anthropologically speaking, at least — was the comment of Goffstown Rep. John Burt, who at first wrote, rather offhandedly: "Kevin is a fireman. That is a no vote for RTW."Fine enough. But then a few minutes later Burt added a post that said, :I hope I am wrong but those paid firemen are an entitled bunch or people. Volunteer Firemen are a great bunch of guys. They do there (sic) job for the love of there neighbors. Not against them."Asked by a Concord Monitor reporter to explain exactly what he meant, Burt replied, "I just have a lot more respect toward the volunteers. They do it for the love of their neighbors, whereas some of the paid firemen and the paid policemen, they just seem to have this attitude that, 'Hey, we should be up on this pedestal.'"Actually, if Representative Burt didn't have what are apparent long-term memory problems, he may have remembered that it was paid firefighters (highly paid ones at that) who not only responded but gave their lives to rescue and recover victims at the World Trade Center on 9/11. Some of them are still giving their lives, actually.And it was pretty much everyone in America (except for him, apparently) who put them up on a pedestal without them asking for the honor.F&J TOTE BOARDAnn Kuster: The 2nd C.D. Democratic hopeful raises a big chunk of change — $360,000 in her first fundraising quarter — $57,000 more than the incumbent, Congressman Charlie Bass. Maggie Hassan:The former Democratic state senator and possibly, maybe, could be potential candidate for governor tells the Portsmouth Herald that she will run … if John Lynch decides not to. Ted Gatsas:The mayor of Manchester officially launches his bid for a second term.
John Lynch:Yet another new poll finds the New Hampshire governor has a 65 percent approval rating.Mike Brunelle:The executive director of the state Democratic Party and state rep leaves his posts for a job heading the Service Employees International Union in Pennsylvania.It's been making the rounds…• The just-passed budget's already having problems remaining balanced — a $7.8m whoops! in the trailer bill may require special legislation to fix. And you were surprised because …?• Speaking of budget fixes, has anyone stopped to think what happens if either of the lawsuits challenging state retirement reform actually prevails?• The four state hospitals looking for back taxes is just the tip of the iceberg — there'll be more coming on board, and they have a pretty good case.• Seriously, Senate President Peter Bragdon actually thinks there's nothing to the stories that House Speaker William O'Brien is working on drumming up a Bragdon challenger in next year's primary?• That 65 percent favorability rating — sure is making it tough for John Lynch to say not to a fifth term.