Flotsam & Jetsam: Taking sides?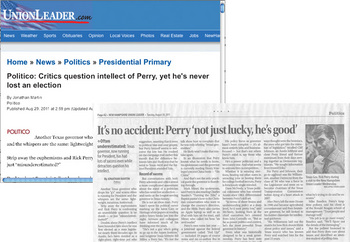 There appears to be something of a disconnect between the people who put out the print edition of the Union Leader and those who put out its online product.A case in point is the Aug. 29-30 publication of an article by Jonathan Martin of Politico.Run on the UL's website, the article is headlined, "Politico: Critics question intellect of Perry, yet he's never lost an election." (It's still there, actually, at http://www.unionleader.com/article/20110829/NEWS0605/110829865, for those keeping score at home).Run on page A2 of the newspaper itself on Aug. 30, the headline for the very same article, word-for-word as far as F&J could tell, read: "It's no accident: Perry 'not just lucky, he's good'"Identical articles, separated at birth.As for Politico itself, the story ran on Aug. 29 as well, with the more succinct headline: "Is Rick Perry dumb?" (http://www.politico.com/news/stories/0811/62214.html).What about Buddy?How do you think former Louisiana Gov. Buddy Roemer felt when he read the headline in the recent big New York Times piece headlined, "G.O.P. Candidates' Stances on Health Care Mask Their Records as Governors"?The article goes into detail about the health care records of three former governors who are running for president — Rick Perry, Mitt Romney and Jon Huntsman. But the name of the fourth, Roemer, was nowhere to be seen.For the record, Roemer served as governor of Louisiana from 1988 to 1992.His and hersIn yet another unofficial New Hampshire tea party census — an occasional attempt to gauge the actual number of Granite Staters who are really, truly, actually fired up by the tea party frenzy — F&J notes that at the recent Mitt Romney-attended Tea Party Express-sponsored event in Concord, there were more Democrats, media people and people protecting Romney from any possible trouble from the "crowd" than there were actual tea partiers in the "crowd" itself.The next day, turnout for a tea party event in Manchester that featured Sarah Palin was more impressive — about 700 or so, not counting the vast parallel crowd of media, Democrats and other onlookers. But, considering that Palin's a TV star (or a quasi-TV star, to be more accurate) it does make the census takers wonder how many were there as actual tea partiers and how many were there to see the former star of the "Sarah Palin's Alaska," the defunct TLC reality show.Signing of the timesNow that l'affaire Kimball has become simply a fond memory for political writers and Democrats, one point remains to be cleaned up.It has to do with one of the charges lodged against the now-former chairman of the state Republican Party. Namely, that he dared to sign a ballot petition for a Libertarian Party candidate. A breach of Republicanist ethics, or whatever they're called, that could not go unpunished. And punished it was, obviously.But the question does remain: Now that Kimball is gone, but still swears his loyalty to the GOP despite his Libertarian urges, wouldn't it be fair to call him by what he actually appears to be? Namely, a RINO — Republican In Name Only.F&J TOTE BOARDWayne MacDonald:The longtime vice chairman of the state Republican Party is promoted to chairman after the resignation of Jack Kimball as head of the New Hampshire GOP.Ray Buckley:The chairman of the state Democratic Party feels the heat after the Dems are fined $5,000 for placing unlabeled robo calls in violation of state law.D.J. Bettencourt:The House majority leader throws his support behind GOP presidential hopeful Mitt Romney.
Eric Fehrnstrom:The longtime adviser to Mitt Romney is forced to admit that he used a pseudonym Twitter account to mock Alan Khazei, a Massachusetts Democratic candidate for U.S. Senate.Rick Perry:The Texas governor and GOP presidential hopeful wins the endorsement of 2010 New Hampshire gubernatorial nominee John Stephen and former U.S. Sen. Gordon Humphrey.
It's been making the rounds…• There's no truth to the rumor that Gov. Lynch thought about declaring his candidacy for governor of Vermont during all the post-Irene flooding.• The good news is that Michelle Bachmann hasn't found New Hampshire yet. The bad news: Sarah Palin has.• After yet another Palin quickie visit to New Hampshire, it's become clear to anyone who's paying the least bit of attention that the more you see of her, the less there is.• Just a friendly reminder: Rick Santorum is still running for president.• With the storm-hammered roads in the North Country, now the presidential candidates have an excuse for ignoring the voters up there.