Flotsam & Jetsam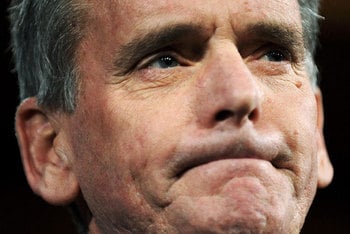 Need a bondsman?
Obviously, most people aren't worrying about U.S. Sen. Judd Gregg's post-Senate career, but that doesn't mean F&J hasn't spent some sleepless nights thinking about the man going without public office for the first time in 30-plus years.The irony is that the perfect job was there for the asking: Who other than the former governor to work on the bailout of the Greece economy?After all, he made sure Public Service of New Hampshire junk-bond holders got every dime due them in the utility's bankruptcy. Who would doubt he could do the same for the holders of Greece's junk too?The 4th dimension
John Stephen's response to John Lynch's announcement that he would run for a fourth term was that "it's not in the New Hampshire tradition to go for a fourpeat."
Funny, Mel Thomson did just that — twice, in 1980 and 1982.Making frenemies
In case you haven't been paying close attention, the times they a-changed a long time ago. The most recent case in point is the sponsor list of the state Democratic Party's recent 100 Club dinner in Concord.Besides the usual suspects, like Martha Fuller and Geoff Clark and unions, were such newcomers as Wal-Mart, General Electric, the Genesee and Wyoming Atlantic Railroad (owner of 47 railroads in six countries), Unitil and Fidelity Investments.Pays to have a majority in the House, Senate and Executive Council, as well as the governor's office, don't it?The 40% solution
Jack Kimball, one of the other people in the GOP gubernatorial primary that's allegedly John Stephen's to lose, told an audience — a very small audience — in Laconia last month about his budget-cutting plan.It's a seven-year plan that includes a 10 percent spending cut in the first year, with 5 percent annual cuts for the next six.Let's think about it a minute. Kimball's plan would bring the state budget to 60 percent of its current size seven years from now — to about $1.5 billion. Or, put another way, it would also bring us back to 2001, when the budget was about $1.3 billion — and the year before the educational trust fund (read: statewide property tax) added 800 or so million to the state's revenue stream, and its budget totals.Not to confuse matters more, but the price of a barrel of crude oil in 2001? Twenty-three bucks.Oil's not well
They must be hearing voices, those folks at Americans for Tax Reform — the Washington, D.C.-based, Grover Norquist-founded organization that sticks its nose in New Hampshire politics every two years. How else can you explain a recent press release faxed (yes, faxed) to news outlets?The release, which arrived in the morning of April 29, 2010, shouted from its headline: "New Hampshire Would Gain $29 Million From Offshore Oil Drilling." It went on to tout what it said were the "benefits associated with offshore oil drilling" and urged the state to allow drilling offshore.The only explanation is that they don't own a TV, and perhaps are missing an Internet hookup (thus the fax).Because, whether or not there are any "benefits" from offshore oil drilling, you'd think they'd show a little bit more common sense in timing the release — and not send it out on day nine of the worst oil spill in U.S. history, in the Gulf of Mexico.Give the man a lifetime subscription
It says something — what exactly, it isn't clear — but during the state Senate debate over notification requirements for parole hearings, Sen. Jack Barnes of Raymond provided some personal information that may or may not hold a clue to his political philosophy. But one thing's for certain, it speaks volumes about his tech-savviness.The bill would have removed the requirement that parole hearing notices appear in a "newspaper of general circulation in the county were the offense occurred." But it was amended at the urging of Senator Barnes, who told his colleagues the requirement should be retained because he, along with others, don't use the Internet and rely on traditional newspapers for information.F&J TOTE BOARDSean Mahoney: The former GOP national committeeman publisher of Business NH makes his 1st C.D. bid official.Vanessa Sievers: The 22-year-old Dartmouth College student is asked to resign as Grafton County treasurer by officials who cite a lack of communication and chronic absences at meetings.Plymouth State University: TMore than 20 years after its last appearance, the college is voted to the No. 9 spot on Playboy magazine's list of the top 10 "party schools" of 2010.Katrina Swett: The former Democratic 2nd C.D. nominee officially announces her plans to try for the seat again.Earl Sweeney: The assistant safety commissioner is brought on to bring stability to a State Liquor Commission after one commissioner is fired for failing to take a Breathalyzer and another remains under investigation by the Attorney General's Office.It's been making the rounds…• No matter what happens in the primary, Bill Binnie's the winner — if he wants to win the 2012 gubernatorial nomination, that is.• Considering there's an election in six months, the absence of real excitement was palpable at the Dems' recent 100 Club dinner.• Among the 100 Club absentees: Jeanne Shaheen and Carol Shea-Porter, who had to remain in D.C. for important votes. But if they were that important, why was Paul Hodes in attendance?• Also in attendance at the 100 Club dinner: A table-hopping Gov. Brian Schweitzer of Montana — setting the table for 2016 perhaps?• You can be forgiven if you did a double-take when you spotted the "From" address on a recent e-mail from state Republicans. It did say, "Vesta Roy," the former state Senate president and interim governor who died in 2002. But it was only to announce the next installment of the GOP's Vesta Roy Excellence in Public Service series.• Why would the Ayotte campaign deliberately go out of its way not only to annoy, but outright aggravate, Bob Clegg?• Whatever happened to Frank Guinta?