Flotsam & Jetsam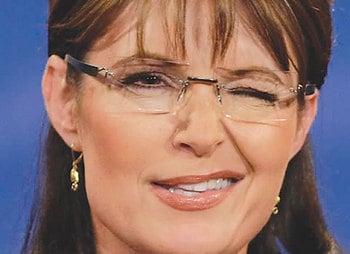 Yes, Sarah Palin is afraid of New Hampshire, for reasons that remain a mystery — or, at the very least, a conundrum.And, considering that she's not afraid of Massachusetts, where she recently attended a Tea Party event, it makes her absence from the Granite State all the more puzzling. Why, even GOP dignitaries like Fergus Cullen are publicly scratching their heads (as he did in a recent Union Leader column) over her cold-shouldering the Granite State. But F&J may have found the answer — in the trash, of all places. As has been reported earlier, (including here, last December) the Fox News personality appears to have a Madonna complex — as in Madonna the pampered diva, not the other one. It was reported late last year by Mark Halperin of Time magazine, that an unnamed New Hampshire organization that inquired about booking Palin for a stop in the Granite State was presented with a list of what can only be called demands, among them: • $100,000, plus first-class travel for two and coach for one and lodging expense • No media would be allowed to cover the speech• No taping for archival purposes, unless Palin herself personally approves it. At the time, the list seemed more titillating than anything else — and, besides, it wasn't seen on an actual piece of paper. Now it turns out that some enterprising students at the California State University campus in Stanislaus have found the smoking gun. Or rather, shall we say, the piece of garbage.In the trash was found the actual contract containing Palin's list of requested fees and "amenities."Sure enough, she does ask for two round-trip, first-class airfares, along with a suite and two rooms at a deluxe hotel, transportation via either an SUV or a black (yes, specifically black) town car and pre-screening and approval of questions from the audience.Also required was that her lectern be stocked with water bottles and bendable (yes, that's bendable) straws. There was no word on the fee, but you'd think that if she was supposedly charging $100k to visit New Hampshire, she'd have to be asking for more to speak in northern California.Considering that ABC News calculates she earned at least $12 million since stepping down last July after half a term as Alaska governor, she can't be all that discriminating in where she's giving these speeches.Look out below!Yes, Ray Buckley, chair of the state Democratic Party, actually sent out an e-blast a couple of weeks ago to Dems claiming that "Republicans are in free fall."If that's true, then Democrats have already landed in a heap.That's the way the party grumblesThe grumbling about Paul Hodes remains among certain elements in the state Democratic Party — particularly those on the more progressive end.Among the grievances is the congressman-cum-Senate candidate's vanishing act (until the very last minute, that is) on last year's gay marriage law, coupled with his earlier very public plea for Dems not to vote for Ray Buckley as chair after Buckley was the victim of a series of defamatory, scurrilous and baseless accusations. The grumbling likely won't result in any real problems for Hodes — unless, of course, he does something to add to the discontent.
Neutral territory?
Not for nothing, but if Cornerstone Policy Research and its Cornerstone Action subsidiary consider themselves "nonpartisan, nonprofit advocacy and education organizations," then why is Cornerstone's director, Kevin Smith, not only hobnobbing with, but downright coddling, the blatantly partisan New Hampshire Tea Party movement?F&J TOTE BOARDSteve Vaillancourt: The Manchester GOP state rep pleads no contest to charges of driving a car after suspension and operating with a suspended registration, stemming from an incident last November.DeMoulas: The very last DeMoulas grocery store closes in Salem, to be replaced by a Market Basket supermarket.Paul Hodes: The Dem congressman and U.S. Senate candidate raises $663,000 in the first quarter, but finds out he's behind all three leading GOP candidates in the Rasmussen Reports poll.Town of Atkinson: Three members of the town's four-person ethics board resign in one week.Katrina Swett: The Dem 2nd C.D. hopeful raises some $325,000 in the first quarter, and now has more than $1 million on hand.Charlie Bass: The Republican 2nd C.D. candidate raises $155,000 in the first quarter, with $262,000 on hand.Bob Bestani: The Republican 1st C.D. hopeful raises $60,000 in the first quarter and now has $125,000 cash on hand.New Hampshire Lodging and Restaurant Association: The trade group asks the Granite State Coalition Against Expanded Gambling, which it helped found, to remove its name from any of the coalition's materials now that its membership recently decided to take a neutral stance on expanded gambling.
It's been making the rounds…
• If lawmakers were to pass an anti-bullying law, would it cover certain former governors, who shall remain nameless?
• So now there's no front-runner for the GOP nomination in the 1st C.D.?
• If Sean Mahoney thought the decision to quit his Republican National Committee seat — purportedly over the "misguided" California sex club fund-raising escapade uncovered a few days earlier — was going to have any legs as a news story, he was sorely disappointed. The story had all the fizzle of a stale Alka-Seltzer.
• Mitt Romney, in New Hampshire yet again earlier this month — this time for a Manchester book signing and a "Politics & Eggs" appearance — insists on saying it's too early to say whether he's a candidate for president. So he just visiting New Hampshire, as Rick Blaine said, "for the waters."
• You'd think an organization calling itself the National Organization for Marriage would be pushing for, say, stricter divorce laws, or perhaps a ban on 3 a.m. Elvis chapel marriages and not preventing people from actually getting married?
• If the Tax Foundation is right in saying New Hampshire has the 28th worst tax burden among the 50 states — worse than Maine, which has the 34th — then what's that "Advantage" again?