Flotsam & Jetsam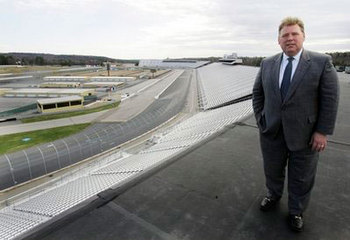 Track recordAt the very least, Jerry Gappens, GM of New Hampshire Motor Speedway in Loudon, may have forced Lou "Captain Video" D'Alessandro's plan to expand gambling in the state into a pit stop.After all, the speedway is the 800-pound gorilla now roaming the halls of the State House looking for a piece of the action that seems to grow ever more likely with each passing revenue shortfall. And the argument from Gappens is that allowing a casino in Loudon is a "no-brainer" because of the crowds it attracts each year and the investment ability of the speedway's parent company, Speedway Motorsports Inc. of Concord, N.C. ("It's not hard to spend $30 million right off the bat," says Gappens of the construction that would accommodate approval of a casino at Loudon.) So that sets a few heads scratching in the halls at 107 N. Main St. in Concord, N.H., about the Captain's plan.But, setting aside questions surrounding the central nervous system, can Speedway Motorsports Inc. really just simply snap its fingers and come up with the $30 million "off the bat," not to mention the rest of the dough to follow?The simple answer is, as Curly Howard would say, "Soitanly!" since Bruton Smith, chairman of Speedway Motorsports Inc., is a particularly wealthy man, and the publicly held company owns a total of nine race tracks around the country.But while Smith may be richer than the average folk, the bloom seems to have been coming off his rose a bit over the last couple of years. Smith – who has made his real fortune through a car dealership empire – was summarily kicked off Forbes magazine's list of billionaires last year as his fortunes diminished, thanks to the Wall Street meltdown and recession.As for Speedway Motorsports, the company reported that its most recent fourth quarter wasn't exactly something to write home about. The company saw its revenue drop 31 percent, losing $15.2 million, or 36 cents per share. That compares to a loss of $4.8 million, or 11 cents per share, a year earlier. Neither looks particularly good.In fact, the company said in its 4Q report that it expects to have to reduce ticket prices and use promotional campaigns "to help foster fan support and mitigate near-term ticket sales weakness" this year.And revenue for 2010, it said, may be down as much as 9 percent — after a decline of nearly 10 percent in 2009.To add insult to injury, Moody's Investors Service recently downgraded the company's liquidity rating, citing debt concerns. Among other things, Moody's cited, "continued softness in discretionary consumer and sponsor spending on motorsports events."Cash infusion from gambling anyone?Have times changed that much?"With private insurance finally affordable, I proposed that everyone must either purchase a product of their choice or demonstrate that they can pay for their own health care. It's a personal responsibility principle. Some of my libertarian friends balk at what looks like an individual mandate. But remember, someone has to pay for the health care that must, by law, be provided: Either the individual pays or the taxpayers pay. A free ride on government is not libertarian." – Mitt Romney, author of "Health Care for Everyone? We've found a way," The Wall Street Journal, April 11, 2006.Anti-social mediaWhat's the deal with Rep. Nick Levasseur?The Manchester Democrat stretched the credulity of pretty much anyone with common sense when it was revealed late last month that his MySpace page listed one of his "personal interests" as "the hunting of neo-conservative Reaganites (a shooting sport brought to you by the republican party in more ways than one!)"Cute, huh?This is the same "humorist" who authored another MySpace posting on his Facebook page (he sure does take that social media to heart) that referred to the Japanese cartoon genre of anime as "a prime example of why two nukes just wasn't enough." It was a statement, that needless to say, wasn't greeted too warmly in either the anime world or the nation of Japan.Of course, the state Republican Party called out Levasseur, and by extension, Democrats, who initially expressed revulsion at the anime remark, adding: "We would expect him to step down from his seat if this happens again."Levasseur wound up apologizing for the anime remark, but as of this writing had barely a peep about his "hunting" hobby. And state Dems remained quiet as well.P.S. Both the Facebook and MySpace pages have met their social media maker and no longer exist.F&J TOTE BOARDSean Mahoney: The Business NH publisher resigns as one of New Hampshire's Republican National Committee members in protest of what he said was called inefficient and inappropriate spending of donors' money.Gene Chandler: Charlie Bass's 2nd C.D. campaign hires the state rep and former speaker of the House as its North Country field manager.Richard Bailey: The state's top information technology officer is picked to replace Virginia Beecher as head of the Division of Motor Vehicles.Jim Bender: The Republican U.S. Senate hopeful hires Beth Lindstrom, who managed Massachusetts U.S. Sen. Scott Brown's special election campaign, to run his.Bob Smith: The former New Hampshire senator bails out of his bid for the U.S. Senate seat in Florida.Tom Tessier: The attorney and former Manchester water commissioner — recently sentenced to federal prison for bilking a client out of $2.3 million — has his photo removed from the Manchester Water Works offices, along with a plaque put up in his honor at a water treatment plant.
It's been making the rounds…
• With the demise of Virginia Beecher's career at DMV, the Dick Flynn era at Safety is officially over.
• Online gambling might bring in some bucks for state coffers, so what about online porn?
• Folks who watched 1st C.D. GOP hopeful Rich Ashooh's diatribe on health care at a recent joint news conference couldn't believe it was the same guy.
• More than a few folks are starting to take back what they said about Ted Gatsas as mayor of Manchester.
• Too bad Bill Loeb's not alive: Angela Davis, the professor and outspoken radical, was the keynote speaker at a recent University of Vermont symposium.