Flotsam & Jetsam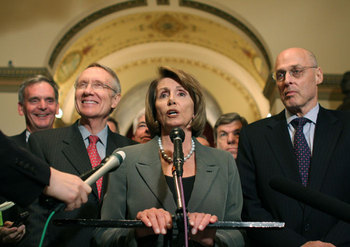 Put that on your resume
In case you Tea Party-ers out there had any doubts that Judd Gregg has his fingerprints all over the 2008 financial system bailout, consider this item from former Treasury Secretary Hank Paulson's (Dartmouth '68) new memoir, "On the Brink":
"Mitch McConnell had put Gregg in charge of Senate GOP negotiations when Richard Shelby elected to sit out the debate. It was a fortunate, and inspired, choice. Judd was a respected New Hampshire conservative who possessed one of the sharpest minds in the Senate, knew the issues cold, and was a superb negotiator; he commanded the respect of Senate Republicans. He understood that the system was endangered and wanted results."
Future shock
University of New Hampshire President Mark Huddleston delivered a Feb. 2 speech unveiling UNH's 10-year strategic plan, with the curiously wordy title, "Breaking Silos, Transforming Lives, Reimagining UNH: The University of New Hampshire in 2020."
In the speech, Huddleston gave the college an offer it couldn't refuse: "Either we change the paradigm or we go out of business."
The plan, he said, "is about our ability to remain viable."
Of course, he couldn't leave his audience in a state of despair, so he deftly wove in what he admitted was a "Zen idea" from the well-know Zen master, Wayne Gretsky " an idea that Huddleston said had "a lot of wisdom to it": 'We need now, and always, to "skate to where the puck is going to be.'"
All in all, the speech was welcomed by the UNH community, and even some outside it. The only criticism F&J might come up with is that the whole event was missing a soundtrack. How about Gloria Gaynor's "I Will Survive'"
The Energizer executive councilor
Times may be tough for some of us, but apparently not for Executive Councilor for Life Ray Burton.Burton — who not too many years ago sent the political class in a tizzy after the revelation that a former aide was a sex offender — raised a rather impressive $65,000 at a one-night fund-raiser in Meredith.
Not bad for a guy who in September 2005 was being gang-tackled by the entire then all-Republican congressional delegation, the governor and a fellow councilor — all of whom demanded that Burton resign over his hiring of the sex offender.F&J TOTEBOARDAl Baldasaro: A week after apologizing for comments that weren't very difficult to define as homophobic, the Londonderry legislator is welcomed aboard Kelly Ayotte's bandwagon as one of 101 Republican state reps publicly endorsing her for Senate.Steve Lindsey: The Democratic rep from Keene is behind an effort to name two bridges spanning the Connecticut River after Charles Dana, founder of the New York Sun newspaper, and Anna Hunt Marsh, founder of the Brattleboro Retreat.Frank Emiro: The state rep from Londonderry forms an exploratory committee to investigate a run for the GOP gubernatorial nomination.Rich Ashooh: The BAE Systems executive from Bedford throws his hat into the ring for the GOP 1st C.D. nomination.Peter Leishman: A preliminary investigation finds "no substantial evidence" to conclude the Democratic state rep from Peterborough engaged in unethical conduct tied to his operation of a railroad company.Walter Peterson: The former New Hampshire governor is among those named a supporter of the Vote for Answers campaign, which seeks another investigation into the 9/11 terrorist attacks.It's been making the rounds…
• With Judd Gregg in the national spotlight more than ever these days, even though he's in the final months of his final Senate term, could he be thinking of another, higher office?
• It's safe to say that Kelly Ayotte was for the raid of JUA funds to balance the state budget before she was against it.
• Say what you will about Paul Hodes and his Senate candidacy, the visit to Vermont Yankee, just over the border from southwestern New Hampshire, was pretty smart politics — and something most other Granite State pols wouldn't even think of doing.
• There's no way legislators will be able to keep their paws off the recently revealed $5.8 million balance in the Fish and Game Commission's reserve fund.
• Will John Stephen announce his gubernatorial candidacy before or after his father's St. Patrick's Day fund-raiser breakfast?
• There were over 1,000 people at Nashua North High School to hear President Obama, he picks six from the audience to ask questions, and one of them is Dick Swett? Ya gotta be kidding.
• Could you believe that former New Hampshire supporters of John Edwards actually had the chutzpah to say the question was out of bounds when reporters asked how they felt about the former presidential candidate now?