Flotsam & Jetsam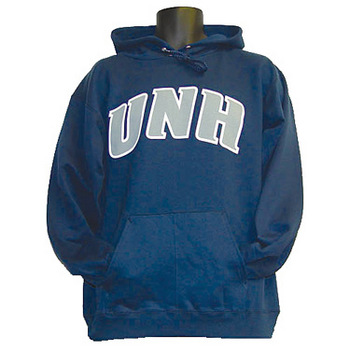 Sweatshirt equity
It might take one of those old Kremlin watchers to decipher the message sent by Governor Lynch when he formally accepted the resignation of Kelly Ayotte as attorney general a couple of weeks ago.
At a meeting of the Executive Council, the governor waxed poetic about Ayotte's tenure as AG. Then he gave her some flowers and – the piece de resistance – a UNH sweatshirt.
While there may be a few members of the governor's party who could think of some other things they'd like to give Ayotte – a likely candidate for the GOP U.S. Senate nomination — no one can deny he's especially good at giving out praise to all kinds of people, particularly those of different political stripes. As for giving Ayotte the flowers – well, why the heck not?
Then there's the sweatshirt. What exactly the guv meant by giving it to her is one of those mysteries wrapped in an enigma. First, Ayotte never attended UNH – she's a graduate of Penn State. Second, as parting gifts go, a sweatshirt isn't exactly going to be among the winning answers up on the "Family Feud" board. Perhaps he was just being practical, thinking that she may actually need the sweatshirt when she's out on the campaign trail on those chilly New Hampshire evenings. Or perhaps he was thinking it was the kind of thing a former governor of Alaska might have worn when she was out on the hustings.
In case you wanted to know
To put at least a bit of the ongoing health-care "debate" in Congress in perspective, some people may find it helpful to know just what kind of health-care plan the members of that auspicious body receive themselves.
The members have a choice from among the 16 – yes, 16 – different plans offered to federal workers. The leading choice is one offered by Blue Cross Blue Shield. Premiums for a family are $1,120.47 a month. The government pays for $763.88 of that amount, and the representative or senator pays $356.59.
Could be one of the reasons they keep running for re-election.
Lights, camera…
Is Christy Mihos running for governor of Massachusetts or Big Brother?
The Bay State Republican has set up an online video camera atop a building in Salem, N.H., with which he's been able to capture the hundreds of thousands of vehicles that pass by.
Mihos insists that all those cars are from his home state, fleeing the Massachusetts sales tax. But whether they're from Massachusetts is another matter, considering you can't see the car's license plates on the live Web video. (What you can do is see the results of an online poll he's taking opposing the Aug. 1 increase in the Mass. tax to 6.25 percent.)
While his point apparently is that a higher sales tax sends shoppers to New Hampshire, it may be somewhat out of focus, at least in Salem.
Town Selectman Everett McBride told the Lawrence Eagle-Tribune that he didn't particularly care for Mihos trying to capture Bay Staters on camera who prefer to shop in New Hampshire. In fact, he called the camera "Gestapo tactics."
"It's a political ploy and it's not going to get him elected to the governor's seat," said McBride, adding that Salem's door is always open to Massachusetts shoppers: "Come one, come all. We're ready to have your business. We're ready to serve."
F&J TOTE BOARD
| | |
| --- | --- |
| Merrimack, N.H.: | Shortly after being named one of the best places to live in America by CNNMoney.com, town officials mull a suggestion to remove 240 of 283 subdivision lights from 126 roads to reduce costs. |
| Jim Ryan: | The former state rep from Franklin finds himself on the wrong side of the law yet again, this time indicted on 13 felony charges alleging he stole money, forged his wife's signature and passed bad checks while in charge of the Committee to Elect House Democrats. |
| Bob Giuda: | The former Republican state rep from Weare says he's strongly considering running for his party's 2nd Congressional District nomination. |
| Millennium Gaming: | The company with an option to invest $450 million in slot machines at Rockingham Park in Salem releases a poll of members of the New Hampshire House that finds 172 are pro-gambling or could be pro-gambling, with 150 anti-gambling or leaning that way. |
| Cheez-Its: | The venerable cracker is endorsed by Governor Lynch when he tells a two Concord fourth-graders for a recent Concord Monitor interview that they're his favorite snack. |
| Ray Burton: | Saying "he probably wouldn't do it," the Republican executive councilor from Bath says his party's best gubernatorial bet for 2010 would be ex-Gov. John H. Sununu. |
| Roger Tilton: | The Democratic State Committee member and former House candidate from Milford files an election law complaint against the New Hampshire Democratic Party, charging as much as $6 million in donations has not been properly reported. |
It's been making the rounds…
• With the right wing on the fence – at best – about her, if it's Ayotte v. Lamontagne, the Manchester attorney has a very good chance of winning the GOP Senate nomination.
• Maybe they should have had a line item for attorney's fees to defend against lawsuits over the state budget.
• Fred Tausch may very well be a successful investor, but when it comes to spending money in politics he certainly didn't get much of an ROI.
• Is it a red flag when Kelly Ayotte turns to Craig Benson for
political advice?
• If Carol Shea-Porter's so vulnerable, why aren't more Republicans chomping at the bit to run against her?