Flotsam & Jetsam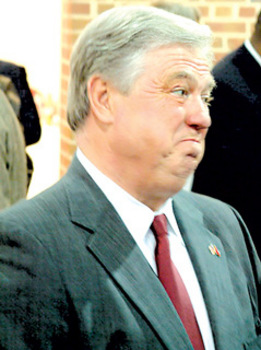 Kinda like vanity plates
Funny, isn't it, that the guy for whom the Judd Gregg Meteorological Institute at Plymouth State University and Gregg Hall, the environmental technology building at the University of New Hampshire are named – just to name a couple – would try to raise a ruckus over the Recovery Act signs dotting the highways and byways of the Granite State.
The most interesting part is that the senator said the signs are merely a way for lawmakers to "pat themselves on the back" about passing the federal stimulus act.
Added the senator: "These signs are simply for political self-interest, and it's about time they stop so that stimulus dollars can be put to better use."
No dice in Russia
Just as Governor Lynch announces he's OK with a commission to study whether the state should have gambling or not, comes word that Russia is closing every single legal casino in its country, part of Prime Minister Vladimir Putin's anti-vice campaign.
The shutdown is expected to put tens of thousands of people out of work – the gambling industry says the total number is 400,000.
However, Putin, ever the compassionate personage, hasn't completely left the industry out in the cold – figuratively, at least. Literally is another matter, since he has offered to allow the casinos to relocate in four regions in remote areas of Russia, as many as 4,000 miles from Moscow. The areas include Siberia and the region near the North Korea border.
That's even colder than the Great North Woods.
Late breaking
For a guy who not only takes pride in running for office at full throttle but is a lawyer to boot, you'd think dotting all the i's and crossing all the t's would be second nature to Congressman Paul Hodes.
But the 2nd District rep apparently has forgotten at least one of those dots and/or crosses.
It turns out Hodes is one of 64 members of Congress who have so far failed to file their personal financial disclosure statement for 2008 – not exactly tidying everything up in preparation for a U.S. Senate run. The deadline, by the way, was May 15.
FYI, in 2007 Hodes listed assets of between $818,000 and $1.695 million. The largest single item on the list: 50 acres of land in Lyme, valued at between $500,000 and $1 million.
A real mind-changer
Haley Barbour, the governor of Mississippi, newly installed chairman of the Republican Governors Association and potential presidential candidate, dipped his toe in New Hampshire's political waters last month.
He received a rather warm response from those in attendance at a state Republican Committee reception in Bedford, focusing on how the GOP can rebuild itself – topic du jour among politicos. Considering how much has to be done, Barbour had plenty to say, of course.
But when he was asked for his opinion on the then-brewing scandal over South Carolina Gov. Mark Sanford – the man Barbour replaced at the RGA – and his Argentine expedition, the gregarious Barbour just about clammed up.
"I've been around politics for 40 years, and I've always made it a policy that I don't talk about people's personal problems," he said. "I don't think it's polite. I don't think it's appropriate. I don't think there's anything gained from it."
Funny how time changes one's attitude about such things.
For example, in 1998 – at the height of the President Clinton's Lewinsky scandal – Barbour had no such qualms. Speaking on Fox News on Sept. 15, 1998, he told Brit Hume:
"And now we have this president who treated Monica Lewinsky in such a way that it makes prostitution look dignified and ennobling. I mean, he made her a sex toy, a sex object. And now what do these women say? That it doesn't make any difference?
"The American people hear that with a voice louder than a bolt of lightning and thunder when these same people never say one word about the way that this young woman was treated, when they've spent their whole careers complaining about it when it was the president of a company or a Republican senator or a possible judge? The public sees through that like nothing you ever saw."
F&J TOTE Board
| | |
| --- | --- |
| Kevin Smith: | The director of the anti-gay marriage Cornerstone Policy Research organization is named to the U.S. Civil Rights Commission's New Hampshire Advisory Committee. |
| Patricia Russell: | The liquor commissioner announces her retirement after 10 years at the state agency. |
| Marjorie Smith: | The Democratic chair of the House Finance Committee praises Governor Lynch for his hands-on involvement in getting the budget passed, saying, "The governor is good in a crisis, whether it's a flood or a fire or an ice storm." |
| John Stephen: | The former New Hampshire health commissioner is at the center of a storm in Rhode Island, where his firm was paid $370,000 for work that had previously been portrayed by the state's governor as strictly volunteer. |
| Bobby Stephen: | The former state senator says he's set to throw his hat in the ring and run for Manchester mayor. |
| Worksafe TCI: | The Vermont-based manufacturer of highway signs – with an office in Bow, N.H. – becomes the unwitting center of controversy after U.S. Sen. Judd Gregg singles out Recovery Act signs at highway projects as being wasteful. For the record, the company has 14 employees and manufactures the signs for projects in New Hampshire, Vermont and Maine. |
| Judd Gregg: | The Republican U.S. senator is one of 30 key lawmakers helping to draft health-care legislation with financial holdings in the health industry. Gregg's holdings include has between $254,000 and $560,000 in stock such firms as Bristol-Myers Squibb and Merck. |
It's been making the rounds…
• Do you think Governor Lynch has to sleep with a nightlight because he's been having nightmares about Jim Coburn and the gas tax?
• There's no truth to the rumor that Governor Lynch was asked to replace Mark Sanford as head of the Republican Governors Association before they settled on Haley Barbour.
• Do you think there'll be one or more candidates challenging Sen. Bob Odell in next year's GOP primary?
• If John E. does run for the U.S. Senate, and – despite the veiled threats from John H. – there's a primary, could anyone possibly see John H. walking straight down the middle?
•How would the budget deliberations have gone if the governor had announced in January that gambling should be off the table this year?