Flotsam & Jetsam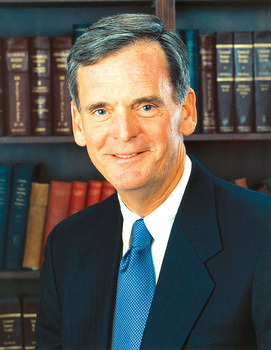 Sorry, wrong number
Peter Burling, the former Democratic state senator from Cornish and current member of the Democratic National Committee, is not exactly someone without the wherewithal to pay a $17 phone bill. Of course, there's no reason for the folks at FairPoint Communications to know that, but it certainly didn't do itself any favors when it mistakenly reported to credit agencies that Burling owed it 17 bucks.
That report apparently was enough for American Express to lower the credit limit on Burling's longstanding account, something that – as many of us are finding out first-hand of late – credit card companies are happy to do at the drop of a hat.
(Before you start thinking that it's possible that Burling simply overlooked the bill, it turns out he has his bill paid automatically.)
Obviously ticked off, Burling, who kind of knows his way around state government, called the state consumer advocate to complain. FairPoint quickly tried to remedy the situation, calling Burling to apologize. All well and good, but not enough, at least not yet.
"I have an apology from them, but I'm still trying to get them to repair the damage to my credit card," Burling told the Valley News. "If this is what happened to me, I can only imagine what's happened to hundreds of other small business people and residential customers. I'm sorry, but it's inexcusable."
Not exactly BFFs
As many – far too many, actually – people in New Hampshire know, it's not a pleasant experience to get on the wrong side of our former governor, John H. Sununu.
The latest to feel the Wrath of John is apparently his predecessor as New Hampshire GOP chair, Fergus Cullen. It's not clear what Cullen did to receive the hairy eyeball treatment from Sununu, but suffice to say don't invite them to the same dinner party.
In fact, asked by the Concord Monitor's Lauren Dorgan to respond to a Cullen comment, the Johnster replied: "I don't agree with anything my predecessor says."
Snap!
Listening to Lou
From the Questionable Timing Department:
Americans for Prosperity, the anti-tax group, was scheduled to have a guest speaker at its May 27 meeting at Gauchos Restaurant in Manchester.
The speaker? None other than Sen. Lou D'Allesandro, the man who later that day would come up with the plan to suspend the business enterprise tax credit — the most vilified business-tax proposal in years.
A day in the life
U.S. Sen. Judd Gregg, who in recent months has excoriated government overspending in general, was hailed as something of a conquering hero in Littleton last month – for all the federal largesse the town has received thanks to Gregg's long tenure in Congress.
Gregg, who'll be losing access to those generous federal coffers after his term ends in 2010, was the guest of honor at Littleton's Judd Gregg Day – May 29, for those keeping score at home.
"I hereby declare May 29, 2009, as Sen. Judd Gregg Day," said District 1 Executive Council and Grafton County Commissioner Ray Burton, R-Bath, himself no stranger to the ways of directing government money to constituents.
Gregg was honored for the millions of dollars he has funneled to the Littleton area for everything from Main Street revitalization to preserving the Littleton Opera House.
Gregg, of course, took the whole thing in stride.
After Burton read a flowery proclamation announcing the day – granting Gregg "all of the rights, privileges, immunities, prerogatives, advantages, favors and honors so accorded and awarded you for all you have done for New Hampshire" – the senator deadpanned, "Does this mean I can put flags on the front of my car?"
F&J TOTE BOARD
| | |
| --- | --- |
| Jim MacKay: | The former five-term Republican state rep and mayor of Concord announces he's switching to become a Democrat – and will run for the House. |
| Haley Barbour: | The Mississippi governor agrees to attend the New Hampshire GOP's June 24 fund-raiser. |
| Michael Steele: | The national GOP chair gets a vote of confidence from New Hampshire's GOP chair. "I think he's done a good job," said John H. Sununu. |
| John Lynch: | The governor tells the press he continues "to remain very skeptical about expanded gaming." Notice he didn't say "gambling." |
| Fred Tausch: | The self-anointed government-spending watchdog and founder of STEWARD of Prosperity makes rumblings about possibly running for U.S. Senate. |
| David Souter: | The soon-to-be-former U.S. Supreme Court justice joins an effort by the New Hampshire Supreme Court Society to produce a civics curriculum for statewide use. |
It's been making the rounds…
• Perhaps the Shaw Bros. want to take a shot at writing "The Ballad of Gary Dodds."
• It's pretty apparent that the GOP still doesn't have a clue who's going to be its candidate for Senate in 2010.
• Is it a coincidence that the House turned down the original same-sex marriage compromise AFTER Dem leader Ray Buckley decided to finally take an active role in pushing for a "yes" vote?
• Considering all the tax and other revenue-raising proposals (read gambling) coming out of the State House this session, how do ya think lawmakers would react to an income tax?
• Here's one way to plug the state's budget hole: Broadcast the House-Senate conference committee working on a budget compromise on pay-per-view. Guaranteed to be more fireworks than the two-round Pacquiao-Hatton fight.
• You know things are a fiscal mess when the governor's proposal of a transfer tax on mortgage refinancings elicits just a little bit more than a yawn.