Flotsam & Jetsam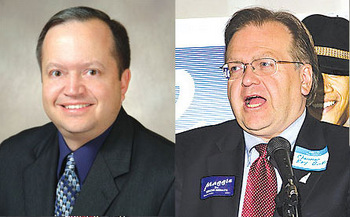 Team player
Yes folks, that's your governor there, looking something like the old Angels outfielder Albie Pearson, on his very own baseball card promoting "Team Lynch" and its June fund-raiser at the MerchantsAuto.com Stadium in Manchester.
Unfortunately, the back of the card doesn't include any real statistics – except for his birthday (Nov. 25, 1952), so we don't know whether he bats righty or lefty or which arm he throws with. While it's been well publicized that he's batting about .700 in the polls, it's a little less clear what his win-loss record is so far this legislative season.
Coincidence?
State Sen. Peter Bragdon, R-Milford, on an effort to allow tax-cap measures on city and town ballots: "I'm trying to think why someone would be against it. Even if you oppose spending or tax caps, what's wrong with letting the people decide?"
Democratic Party Chair Ray Buckley on opposition to Governor Lynch's proposed "religious liberty" compromise wording for the same-sex marriage law: "Do Republican leaders really want to be on record opposing protections for churches and clergy?"
Color-coded
For further proof that the Cold War really is ancient history, look no further than the newest Web site billed as "a gathering place for New Hampshire and national Republicans to discuss repairing the party and finding a path forward."
The name? RedHampshire.com, a moniker that sounds like something Bill Loeb would have called the UNH campus at a time now long ago and far away.
By the way, despite its stated goal, the site's founder Tom DeRosa (former political director for the New Hampshire Republican Party and former staffer to Mitt Romney's presidential campaign) insists that RedHampshire.com is not affiliated with any political party or candidate.
Mitt-igation
Considering how hard it's been for the state GOP to find a U.S. Senate candidate, why not the man who was the subject of a recent Union Leader article, "Will Mitt Romney hang his hat in N.H.?"
After all, the man who's supposedly toying with the idea of declaring his lakeside Wolfeboro home as his primary residence is tanned, rested, ready and, best of all, self-funded with the kind of insatiable ego that would convince him it's a good idea.
Plus, it could be kind of like spring training for his 2012 presidential bid.
F&J TOTE BOARD
| | |
| --- | --- |
| Frank Guinta: | The Manchester mayor, announcing his candidacy for the 1st C.D. Republican nomination, is the automatic morning line favorite. |
| John Kacavas: | The Manchester lawyer is nominated by President Obama to be the U.S. attorney for New Hampshire. |
| James Pindell: | The political reporter and contributing editor at New Hampshire Magazine announces plans to launch a new Web site, nhpoliticalreport.com. |
| Doug Kruse: | Days after his name is floated as a potential mayoral candidate, the three-term Manchester School Board member announces he will resign in June to take a job at Florida Atlantic University in Boca Raton, Fla. |
| Paul Hodes: | The 2nd District congressman is one of the first Democrats to back a Republican-sponsored resolution calling for an ethics investigation involving powerful Pennsylvania Democratic Rep. John Murtha and other senior House members. |
| Judd Gregg and John E. Sununu: | A UNH Survey Center poll shows both the current senator and the former senator with leads over Paul Hodes in head-to-head polls for the Senate seat Gregg intends to vacate in 2010. |
| Phyllis Woods: | The Republican National Committeewoman from Dover is a co-sponsor of RNC resolutions urging Congress to abandon earmarks and commending those who have opposed federal stimulus and bailout spending bills, but won't support a resolution "recognizing the Democrats' march toward socialism." |
| John Huntsman: | The Republican governor of Utah cancels a planned visit to New Hampshire after his surprise nomination by President Obama to be his ambassador to China. |
It's been making the rounds…
• Let's get this straight: In New Hampshire, auto dealers have a "bill of rights" under state law, but transgender people don't.
• Three words for national Republicans putting all their eggs in the Frank Guinta congressional campaign basket: Congressman Jim Craig.
• It would be a big mistake to count the pro-gambling folks out just yet.
• Picture this bumper sticker: "It's gay marriage, stupid."
• It has been pretty entertaining to watch Dem Party chair Ray Buckley forced to backtrack and pull a 180 seemingly whenever the governor takes a stand on something.
• What is it that some leading Republicans — namely Sherm Packard and John H. Sununu – have against the UNH Survey Center anyway?