Flotsam & Jetsam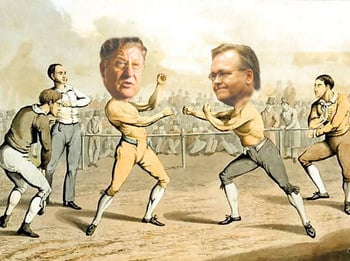 Fight of the week
You likely weren't alone if you experienced a brief episode of PTSD if you had the pleasure of attending an April 20 joint appearance in Manchester by the chairs of the state's two largest political parties.
Of course, no one in attendance at the Greater Manchester Chamber event could deny the entertainment value of the evening. But edifying? That's another matter entirely.
In fact, the evening probably became less enjoyable as it wore on, except for the brave few who own the DVD boxed set of "Crossfire."
On one side of the set, er stage, was Chairman Sununu – a one-time real-life "Crossfire" cast member – and Chairman Buckley, who did a heck of an imitation of one of Sununu's old foils.
Sununu, in his typical diplomatic style, didn't just save his best for Buckley and Democrats – he even turned in a finger-pointing, slightly arrogant, performance directed at the audience itself.
Challenging the businesspeople in attendance to "clean out all the rascals," he then went on to say that they can't "go on like sheep, as we all have for the last 10 to 12 years."
"All of us here in the business community are to blame. We have been like Moses, in denial," Sununu said, adding that it was essentially the duty of businesspeople to back a pro-business GOP candidate.
"You can't tell us, 'Well, I don't want to offend the governor.' This is the time to stand up and defend the issues you believe in," he instructed.
(Aside No. 1: Considering that Sununu's made the bulk of his private-sector fortune in Washington it raises a question or two about his claim to being part of the New Hampshire "business community" – but that's another matter.
(Aside No. 2: Isn't that "We don't want to offend the governor" attitude what kept the GOP in power for so long in the first place?)
If it were a prizefight, Buckley, normally no shrinking violet, appeared not to be in the same weight class as his opponent, preferring to pretty much ignore the existence of what House Democrats have thus far wrought, particularly when it comes to taxes.
In fact, to take the prizefight analogy one step further, Sununu appeared to score some points on a sweet little jab about Governor Lynch being a "faux Republican." On closer examination, however, he didn't come close enough to score a hit, considering that plenty of folks see the guv as a faux Democrat instead.
Sex appeal
As New Hampshire's legislative leaders scratch their heads over how to keep the budget from blowing up completely, perhaps they should turn their eyes westward to Nevada, a state going through even tougher economic times.
To help fill a $2.8 billion budget gap, lawmakers there are mulling over the idea of establishing a $5 tax on sex acts.
Of course, prostitution is legal in Nevada, but that should be a mere formality in a state that already has roadside booze outlets and is coming ever closer to approving a tax on gambling winnings.
The Nevada Brothel Owners Association supports the tax, which, it's estimated, could raise at least $2 million a year.
"The bottom line is that the Chicken Ranch is a legal business," said Bob Fisher, a spokesman for the brothel. "Why should we be looked at any differently or not be given the same respect as any other business?"
The sponsor of the bill is Sen. Bob Coffin – who chairs the Senate Taxation Committee — who told the Associated Press that, since the state is desperate for revenue, he "will go anywhere" to find it.
Flushing out the facts
It's not quite clear what the folks at the State House were thinking when they plunked down 72 grand to renovate a bathroom in the venerable building, ostensibly to make it Americans with Disabilities Act-compliant.
But, as has been pointed out in other places, $72,000 for a bathroom? And at a time when budget writers are not just looking for nickels and dimes, but pennies and lint as well, to fill the gaping revenue shortfalls.
Nevertheless, it was amusing to see state Republicans send around a Foster's Daily Democrat editorial justifiably excoriating Democratic leaders for defending the expenditure, since one of the points the newspaper made was that $72,000 seems more in line with the kind of money the noted lavatory designer Dennis Kozlowski – he of the $6,000 shower curtain – would cough up for such a job.
After all, before Kozlowski moved his official residence from New Hampshire to New York at the behest of his long-term adopted home, certainly didn't just dedicate his largesse to bathrooms and toga parties. He also spent a significant amount in helping out his friends in the Republican Party, donating some $19,000 between from 1999 to 2001 to such causes as Elizabeth Dole's presidential campaign, Rudy Giuliani's Senate campaign, the National Republican Congressional Committee and Judd Gregg and John Sununu's Senate campaigns.
F&J TOTE BOARD
| | |
| --- | --- |
| Gerri Cannon: | The transgender rights activist announces she's considering running for a New Hampshire House seat. |
| Frank Guinta: | Manchester's Republican mayor says he won't seek re-election and is keeping his options open for higher office in 2010. |
| Lou D'Allesandro: | The Democratic senator from Manchester rules out a mayoral run. |
| Paul Hodes: | The congressman and Democratic U.S. Senate candidate pulls in a lackluster $264,000 for his campaign in the first quarter – the lowest among all Senate Democratic hopefuls nationally. |
| William O'Brien: | The Republican state rep from Mont Vernon speaks in opposition to the law banning transgender discrimination by saying the bill "seeks to elevate a nebulous, ill-defined, indeed indefinable group of individuals in our discrimination laws. Look around us, we don't know who among us are transgender individuals." |
It's been making the rounds…
• Governor Lynch's characteristic hesitation over the gay marriage bill is not winning him any friends in the gay community, to put it mildly.
• The effort to get state employees to contribute more toward their retirement has hit a snag, but will that stop the Legislature from going ahead with a legally questionable move?
• Tara Reardon at the Department of Employment Security is a lot easier confirmation than if she had been nominated for bank commissioner.
• For the record, Rep. Doug Scamman said on the House floor that the economic picture is better today than it was in 1990, when he was House speaker and lawmakers approved eight tax hikes and created two new ones.
• Wouldn't you think that in New Hampshire, the center of gravity of anti-tax sentiment, more than a thousand or so people would show up for the "Tea Party" protest in Manchester?