Flotsam & Jetsam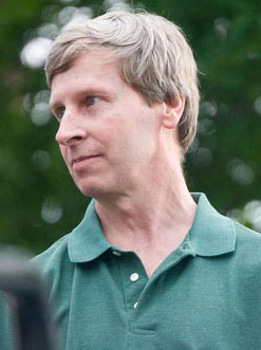 What about peanut butter and preserves?
Considering there have been 400 members elected every two years for what at times seems like an eternity, more than a few philosopher-lawmakers have taken to the rostrum as members of New Hampshire's storied General Court.
The most recent has to be John Cebrowski, a Bedford Republican whose argument last month against the same-sex marriage bill was in many ways a tribute to at least the title of the great German philosopher Immanuel Kant's work, "Critique of Pure Reason." It was certainly long on critique and short on reason.
To present his argument that same-sex marriage would be tampering with a bedrock of society, Cebrowski warmed up his listeners with some throwaways before setting the stage for his metaphorical masterwork. There are things that simply exist as is, that you just can't mess with, the philosopher-rep intoned – the wheel and axle, for instance, or the musical chord or an accounting balance sheet.
Then he hit Representatives Hall between the eyes with this metaphysical breakthrough:
"A peanut butter and jelly sandwich can't be anything other than peanut butter and jelly," Cebrowski said. "Creamy peanut butter and chunky peanut butter can never, ever be a PBJ, as appealing a snack as marriage between a man and woman is an appealing institution."
Of course, this is only the start of the Bedford Republican's groundbreaking work. After all, he owes it to all of us to explain the meaning of pastrami and mayo.
Dog gone
The Legislature is currently in the process of giving the state's two remaining dog tracks an offer they'd be crazy to refuse.
With the bill to both outlaw dog racing retained in committee in the House, another option that both anti-dog racing and the tracks themselves like has re-emerged in House Bill 2, the state budget plan.
Under the provision, dog racing wouldn't be banned in New Hampshire. Instead, the dog tracks in Seabrook and Belmont and the harness track at Rockingham Park in Salem would be given the option of whether they want to offer live racing or not. Under current law, they have to offer at least 50 days of live racing in order to maintain the right to operate their real business – simulcast wagering on races around the country.
If the budget provision goes through, the tracks would have the option this year of not holding live racing. That means it's a given that there would be no live racing at The Lodge at Belmont, which under two different owners now has been seeking an out on offering live dog racing.
Why? Consider that it costs the track some $350,000 to put on 50 days of live racing. The net is somewhere around $38k. You do the math.
Those numbers are bad enough, but under the provision, if any track continues to offer live racing, they'd have to cover the state's cost of enforcement – an amount that's estimated at some $478,000, believe it or not.
But the beauty part for the tracks is that word "option." It turns out that if dog racing were banned entirely in New Hampshire, Seabrook and Belmont would no longer be considered tracks and instead would essentially be off-track betting parlors, meaning they would have to be pay higher fees for those oh-so-lucrative simulcast signals. With the "option" to offer racing, they'd still be considered a track.
You see? We really meant it when we said it was an offer you couldn't refuse.
Party pooper?
Party officials may have pretended not to notice, but more than a few folks stayed away from the state Democrats' annual 100 Club Dinner last month because they, essentially, are spitting mad at Governor Lynch.
The latest – and, in their mind, most egregious — of Lynch's offenses was his reappointment of Attorney General Kelly Ayotte.
Let's just say it wasn't his most shining moment among the party faithful – in fact, for some it may have been the straw that broke the camel's back.
A newspaper by any other name…
Considering that it's not only the biggest newspaper in the state, and likely still its highest-paying New Hampshire customer, you'd think The Associated Press would have found out by now that the powers-that-be at the Union Leader long ago dropped the "New Hampshire Sunday News" name from their Sunday edition.
But there it was, in an item about the State Employees Association considering suing over the state's fiddling around with retiree benefits:
"It remains to be seen if the union actually will sue, but the New Hampshire Sunday News said the complaint could carry weight with lawmakers who will consider the spending plan this week."
Then again, maybe, since times are tight, the AP canceled its subscription.
F&J TOTEBOARD
| | |
| --- | --- |
| Len Mannino: | The Milford School Board member and state Lottery Commission employee announces says he's considering a run for the GOP nomination in the 2nd C.D. |
| Dudley Dumaine: | The Auburn state rep – who was called out in 2007 over an expletive-laced e-mail — gets in hot water again, this time with a "pretty wild and disturbing" reply to a Plymouth State University professor's e-mail. |
| N.H. Advantage Coalition: | The anti-tax group switches gears on its "tea party" tax protest after an envelope containing tea leaves causes a hazmat scare at the offices of Congresswoman Carol Shea-Porter. Now "tea protesters" are being asked to send tea-bag labels. |
| John DeJoie: | The Democratic state rep from Concord writes to supporters that he is "seriously considering" running for the 2nd C.D. nod. |
| Wesley Clark: | The former presidential candidate sends out a fund-raising plea to his former supporters to back Paul Hodes' U.S. Senate race. |
It's been making the rounds…
• Do you think the governor made up his mind on seat belts yet?
• There's no truth to the rumor that Governor Lynch has a special hotline to WMUR meteorologist Mike Haddad to give him the heads up when there's going to be an inch of rain or more.
• Whatever grief they're giving House leadership for the operating budget they've cobbled together – you've got to hand it to the House Finance Committee for proposing a capital budget that actually comes to the realization that state government actually can do something to ease the economic crisis.
• Did Bishop McCormack make the same number of calls to state reps asking them to support repeal of the death penalty as he did in asking them to oppose the gay marriage bill?
• Judd Gregg's argument that the Obama budget would double the national debt accumulated under all the presidents before him sounds good – until you realize that the previous administration did the same thing, with none other than Judd Gregg at the helm of the Senate Budget Committee for much of the time.