Flotsam & Jetsam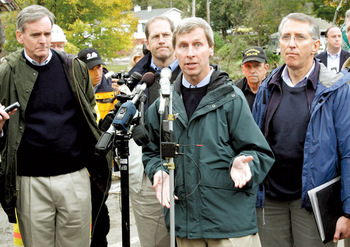 What happened to 'heckuva job Johnny'?
Consider it the first shot across the bow of the Lynch re-election campaign – if and when the governor decides to seek a fourth term.
In an op-ed piece published in the New Hampshire Union Leader, Don McGinley – a former director of the New Hampshire Wildlife Federation – spent 600 or so words explaining why Governor Lynch and his emergency management peeps have yet to "get it right" when a disaster strikes.
Say what? Isn't Lynch The Man when it comes to disasters, keeping calm amid the storms, getting help where it's needed?
According to McGinley, that just isn't so. During last December's ice storm, the governor was "flitting around the state on PR junkets and the Homeland Security crew (was) totally invisible, I now know on a small scale what the people of Louisiana must have felt like when President Bush made his famous statement, 'You're doin' a heck of a job, Brownie,'" wrote McGinley. The real problem, said McGinley, is that the governor has yet "to get it right" – including two previous springtime massive floods — when it comes to dealing with disasters.
Pretty powerful stuff there. From McGinley's perspective, apparently everyone else involved in coping with the ice storm disaster did a great job, including the New Boston police, fire and highway departments, along with crews from Public Service of New Hampshire and other utilities. These were "the unquestionable heroes of the storm." Oh yeah – and "National Guard troops were of great assistance."
And PSNH president Gary Long and "his whole company were executing a recovery that rivals a World War II operation by Gen. George Patton." Wow.
So what were Lynch and his Homeland Security chief, Chris Pope, guilty of? According to McGinley, not "communicating" with people that they were in the middle of the disaster.
Wrote McGinley: "In a word, I felt absolutely 'powerless' because of a virtual lack of disaster status communicated by our state agency, the apparently invisible bureau of Homeland Security and Emergency Management."
Not for nothing, but isn't that what the "flitting around the state on PR junkets" is all about?
For what it's worth
Here's an idea, courtesy of a Maine legislator:
In an effort to save money, Winthrop Republican Rep. Patrick Flood suggests decreasing the size of the Maine Legislature, cutting the size of the House from 151 reps to 115 and the Senate from 353 to 31.
Flood also has introduced a bill that would limit the number of bills each legislator can submit each session and another that would reduce the length of each session.
"It's important to relay back to the public that we shouldn't be immune to the same type of belt-tightening," he said. "I haven't heard from a constituent yet that doesn't think it's a good idea."
Electoral college
You may have at one time been able to muster some sympathy for Grafton County Republicans, who were essentially blindsided last November by the hordes of Obama-inspired Dartmouth College students who cast ballots.
In all, 2,250 Big Green students voted last November. The problem for the local GOP was that they weren't just fired up to vote at the top of the ticket, they also cast votes down the ballot. As a result, the longtime county treasurer — Plymouth Republican Carol Elliott – was kicked out of office. The winner? Dartmouth College junior Vanessa Sievers.
After the vote, Elliott earned a spot as a first-ballot inductee into the Sore Loser Hall of Fame, telling local and national media that she blamed her loss on "brainwashed" college students. She mentioned nothing about failing to understand the tidal wave of young voters – particularly college students — that was long expected to sweep the nation that November.
Apparently, Grafton County Republicans – or at least members of the Hanover Republican Committee – had a sip out of Elliott's cup of Kool-Aid. At a meeting in January, the Hanover GOP spent a considerable amount of time complaining – at some points, "whining" might have been a more appropriate description – about the Dartmouth Effect.
It turns out that Dartmouth students didn't necessarily vote straight Democratic ballots – there were quite a few Obama-Sununu ballots, for instance. The problem for the Grafton County GOP is that they almost en masse voted Democratic further down the ballot, including county races.
But, as in so many other things in life, the initial response of at least some of the members of the Hanover committee was to assume the position of victim.
"I read it as toying with democracy," said resident Jenni Stebbins, calling "what happened to Elliott" a "shame and a sham."
Perhaps. And what would they do to remedy the situation? One of the ideas – taken seriously until a member of the Dartmouth College Republicans shot it down – was for those student Republicans to ask other students not to vote in the county elections. And if that didn't work, why not just spend the time encouraging students to vote in their home states?
Either way you slice it, sounds a lot like "toying with democracy" to us.
F&J TOTE BOARD
| | |
| --- | --- |
| Kenneth Gidge: | The freshman state rep from Nashua sponsors a bill calling for a likeness of the Old Man of the Mountain to be returned to the site where it fell in 2003, saying: "Some geologists say it can't be done, but no geologist says it's impossible." |
| Judd Gregg: | In op-ed piece in The Wall Street Journal, the senator writes that the federal bailout of the banking system has actually earned money — $8 billion so far. |
| Dick Umile: | The University of New Hampshire hockey coach – who has yet to take his team to the promised land of a national championship – is the highest paid state employee, earning more than $382,000 in salary and deferred income in 2008. |
| N.H. Police Association: | Saying it hoped the added revenues could help fix the retirement system, the organization's executive board votes to endorse expanded gambling in New Hampshire. |
| John Lynch: | The governor paves the way for a Senate run by some other Democrat by announcing he has no intention to run against Judd Gregg in 2010. |
| Paul Hodes: | The 2nd District congressman gets some national traction in his budding bid to take on Judd Gregg for U.S. Senate in 2010. |
It's been making the rounds…
• What do Barack Obama and Craig Benson have in common? Appointing government "chief technology officers."
• What if legislators were subject to a firing squad for sponsoring frivolous legislation?
• If New Hampshire Republicans are all for changing the way things have been going for them, why did they re-elect state GOP committee vice chair Wayne MacDonald for what seems like the umpteenth time?
• Anybody else notice the revved-up press release duel between Judd Gregg and Paul Hodes?
• If it's to believed, no one "got to" the New Hampshire Police Association to endorse expanded gambling. That must mean the odds of it being approved have come down even further.
• Louis Karno and Company PR whiz Laura Simoes will be leaving the firm she and her husband Jayme started to take a job as a staffer in Jeanne Shaheen's New Hampshire office.