Flotsam & Jetsam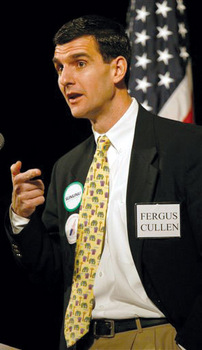 Stop the presses!
The Man Who Knew Too Much – former governor and soon-to-be GOP state chair John Sununu – apparently doesn't know everything, much to his surprise.
As reported by the UL's John DiStaso, Sununu responded favorably to a line in Governor Lynch's inaugural address that referred to increasing to 18 the compulsory age for staying in high school.
Sununu told DiStaso he was "very pleased" with what he took to be a Lynch proposal, adding "and I really do hope" that it passes.
Sununu even went so far as to mention how pleased he was with the proposal when making his way through the reception line later that day. The governor – likely very polite and not at all condescending – informed the former governor that the compulsory age is already state law. It was passed by the Legislature last year.
Sununu's response: "Oh, I didn't know that."
So does that mean Lynch is no longer the "worst governor the state of New Hampshire has ever had," as Sununu said shortly after the November election?
Numbers theory
Low-number license plates, once the coin of the political realm in New Hampshire, particularly in those heady days when Dick Flynn ran state government – er, the Safety Department – may be falling victim to the state's budget debacle.
State Rep. Phil Preston, an Ashland Democrat, is proposing charging a $25 fee to motorists with plates that have four or fewer digits. It's the same amount charged to those with vanity plates.
Under Flynn, the low-number plates were handed out and accepted as if they were judgeships, or at least diamond-encrusted Rolexes. But under Flynn's successor, John Barthelmes, those who want the plates apply for them, and the plates are awarded as they become available.
"It's not going to solve the problem, but every little crumb will help," said Preston.
Loose change?
As a member of the Senate Health, Education, Labor and Pensions Committee, Judd Gregg had a chance to question Arne Duncan, Barack Obama's choice to head the Department of Education.
Duncan, chief executive of public schools in Chicago, has drawn healthy doses of approval and criticism from conservatives and liberals – although in a recent speech President Bush heaped praise on Duncan's "vision and leadership."
While it seems likely that Duncan won't have a problem winning approval for the job, it would be instructive to see what Gregg would do with the following info:
In an interview last summer with Time magazine, Duncan criticized the way Illinois schools are funded – mostly through a property tax.
"It's morally inexcusable that children who happen to be born in wealthier communities, white ones, get a better education than those who live in poor communities," Duncan said. "Clearly, as a state, we've lacked the political courage to fundamentally challenge the status quo, not just tweak it at its edges."
He added: "It doesn't need a tweak. It needs a fundamental change."
Not worth the weight
New Hampshire doesn't always benefit from having the first-in-the-nation primary – or at least the Republican State Committee isn't this year.
The party committee was unable to attract a keynote speaker for its Jan. 17 meeting. The reason? Fergus Cullen, outgoing state chair, told the Concord Monitor: "I did reach out to some, and because a visit to New Hampshire would be interpreted with great weight by some people, that was a disincentive for people to come."
F&J TOTE BOARD
Politicker NH.com:
The PolitickerNH.com Web site,
the go-to site for political insiders around the state since going online in the days following the Jan. 8, 2008, New Hampshire primary, goes dark almost a year to the day later.
Ray Burton:
The longtime executive councilor becomes the longest-serving person to hold the post in state history – he's now in his 31st year in office.
Manchester City Library:
The purveyor of free books finds business is up in the downturn: Library attendance rose 6 percent in 2008 — more than 460,000 visitors – and circulation up 8 percent.
David Kidder:
The moderate New London Republican state rep, survivor of a primary challenge by conservatives in September, is no longer a back-bencher – his House seat is moved up nine rows by Democratic leadership.
Jim Tobin:
A federal appeals court upholds dismissal of the 2002 GOP phone-jamming mastermind's guilty verdict.
Paul Hodes:
The 2nd District congressman gets some national traction in his budding bid to take on Judd Gregg for U.S. Senate in 2010.
It's been making the rounds…
• Wow, that was a shock when John Lynch almost immediately took a sales or income tax off the table in his inaugural address.
• When it comes to gambling this year, all bets are off.
• No, the article wasn't dug up from the 1970s archives, although it did feel like a blast from the past when the UL ran the Jan. 13 headline, "Angela Davis, left-wing
radical, to speak at UNH."
• You think Steve Norton's phone is ringing off the hook after the executive director of the Center for Public Policy Studies told
lawmakers that the state can't solve its budget problems by spending cuts alone?
• No further proof is needed that Judd Gregg isn't taking his 2010 election for granted than his cheerleading for a big-ticket economic stimulus package.
• With so many Republicans already lining up to run for Carol Shea-Porter's House seat in 2010, will there be enough room for Jeb Bradley?