Flotsam & Jetsam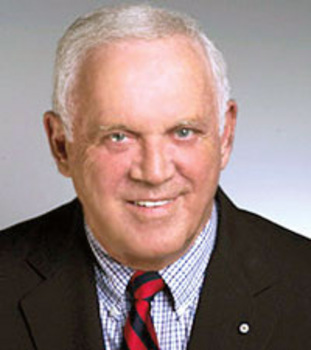 Anger mismanagement
People who don't remember the reign of King John, governor of New Hampshire (1983-1989) may have been given a shorthand introduction in recent weeks to a reality that most of us have been trying to forget.
John H. Sununu, the former governor and father of the defeated Republican U.S. Senate incumbent John E. Sununu, displayed his inimitable ability to externalize his displeasure with others.
And the ex-gov was obviously not pleased as Election Day approached, watching not only his son's Senate seat disappear as the days drew closer to Nov. 4, but the continued dissolution – and, in some parts, trivialization – of the Republican Party in New Hampshire and across the U.S.
As noted in the last edition of F&J, John the Father took a rather gratuitous – and entirely fictitious – potshot at the University of New Hampshire Survey Center. Interviewed on New London radio station WNTK, he barked, "It's insanity if anyone believes a UNH poll" – a poll that, at the time, had his son's opponent ahead. (As did most other polls, it might be worth noting.)
The ex-gov, apparently feeling the pressure as campaign realities began to set in, even went so far as to charge that the folks at the Survey Center had never called an election correctly. Of course, that's not even close to true, and, for the record, they did call the Shaheen-Sununu race pretty much on the money.
Now, let's fast-forward to election night, when the ex-gov bellowed that the voters had preferred to choose "platitudes" over substance in choosing people other than those he himself deemed worthy of their support. Darn them.
Obviously on a roll, the ex-gov proceeded to externalize his displeasure with the person nearest at hand who apparently symbolizes the dreaded Democrats (whose across-the-board sweep in D.C., by the way will likely put a crimp into the ex-gov's lucrative consulting career).
In what can only be called the ex-gov's attempt to let out any of his repressed displeasure, he addressed a Nov. 14 meeting of the Seacoast Federated Republican Women and lashed out against Gov. John Lynch, a man he called "the worst governor the state of New Hampshire has ever had." Then, according to a Foster's Daily Democrat reporter, he let loose, saying that Lynch "has no backbone," that he governs with "platitudes and smiles" and that he may not be "smart enough" to solve the state's budget and school-financing problems.
Never mind the breathtaking demonstration of the ex-gov's hubris, let's mull over one simple fact – better than 70 percent of the New Hampshire electorate thinks otherwise and voted for Lynch to serve a third term. Apparently, in King John's parlance, the peasants are revolting.
The simple fact is this: Considering how many there have been in our history, it's pretty difficult to determine who actually is New Hampshire's worst governor ever – just as it is difficult to determine who was the worst White House chief of staff ever to serve.
They'd rather not
A lawsuit filed by ex-CBS newsman Dan Rather against his old employer has revealed an interesting tidbit.
Rather filed suit against CBS a little more than a year ago, charging that the network had commissioned a politically biased investigation into his work on a notorious "60 Minutes" segment he worked on about President Bush's National Guard service.
According to The New York Times, in the discovery phase of the suit Rather has found evidence that seems to support his claim that CBS intended its investigation, at least in part, to quell Republican criticism of the network.
For one, Rather has obtained internal CBS memorandums that show that network executives used Republican operatives to vet the names of potential members of a panel that had been billed as independent and charged with investigating the "60 Minutes" segment. The panel was eventually headed by Dick Thornburgh, attorney general in the Reagan and first Bush administrations. But one of the memos reveals that CBS had mulled including such impartial commentators as Rush Limbaugh, Matt Drudge, Ann Coulter, Pat Buchanan – even Roger Ailes the founder of Fox News – on the panel.
One name that didn't make the CBS cut was none other than New Hampshire's own Warren Rudman, the former Republican U.S. senator. According to the Times, Rudman, a former Republican senator from New Hampshire, was deemed a less-than-ideal candidate over fears by some that he would not "mollify the right."
F&J TOTE BOARD
| | |
| --- | --- |
| Joe Kenney: | After being told that the state GOP hierarchy insists he benefited from their efforts in this year's election, the failed gubernatorial candidate laughs out loud, according to the UL's John DiStaso. |
| Mike Biundo: | The top dog at the New Hampshire Advantage Coalition issues a day-after press release to announce approval of Rochester's tax cap, but nothing to mention his own bid to get elected to the House from Manchester was a no-go. |
| Carol Elliott: | The Republican Grafton County treasurer gives a whole new meaning to the phrase "sore loser" by lashing out to the local and national media after losing re-election to a Dartmouth junior, who she says was supported by "brainwashed" college students. |
| Bill Denley: | The Wakefield Republican is the only candidate elected to the state Senate with less money to spend than his opponent. |
| Ted Gatsas: | The Manchester state senator is another victim of the GOP debacle, losing his leadership post to Milford Republican Peter Bragdon. |
It's been making the rounds…
• The frenzy with which gun owners are flocking to stores to gobble up apparently any firearm they can – ostensibly because they think President-elect Obama will somehow repeal the 2nd Amendment after he takes office – can only be called a brilliant marketing move by the gun industry. And just in time for Christmas to boot.
• Wouldn't it be déjà vu all over again if New Hampshire's elected leaders once again get their budgetary butts saved by Washington, this time through the budding effort to help states dig themselves out of their financial holes?
• You'd have to say that Drew Cline, the UL's editorial page editor, immediately went straight to post-election denial phase when he claimed in his Nov. 5 blog post that the entire Democratic sweep in New Hampshire was due to George Bush.
• Did Jeb Bradley really imply, very strongly, that he's ready for a third try at Carol Shea-Porter?
• Who was helped more by Governor Lynch's endorsement, Bob Odell or John Shea?