Flotsam & Jetsam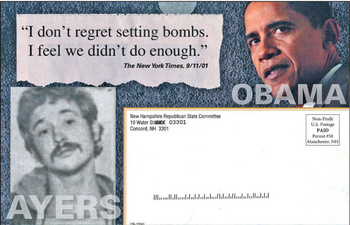 Marketing tools
The cash-strapped state Republican Party sure has found some interesting material to put its dollars into.
The party – which barely acknowledges, let alone substantially supports, gubernatorial candidate Joe Kenney – recently sent out a four-page, four-color, glossy direct-mail piece that claims, "This is the story of William Ayers … Terrorist. Radical. Friend of Obama."
Ayers, as you may have heard by now, is the former member of the '60s terrorist group the Weather Underground who has since gone up to become a respected professor at the University of Illinois at Chicago.
The mailing is filled with provocative photos of Ayers – four of them the same '60s mug shot — and some shadowy images of Obama. There is some printed matter – in a type size befitting My Weekly Reader – repeating the same old charges being spouted in e-mail chains, on talk radio and certain cable "news" shows that because Ayers and Obama have had a relationship in the last decade, that somehow makes the Illinois senator responsible for the actions of a '60s radical.
The beauty part – at least the part the people who put the piece together must take the most pride in – is the design on the page that contains the address label. Above the label is a photo of Obama. To the left of the label is Ayers' mug shot. Between the two is an unattributed quote, "I don't regret setting bombs I feel we didn't do enough," suggesting, not very subtly, that either of the men in the photo could have said it. (It was Ayers who did, by the way, in a Sept. 11, 2001, New York Times interview.)
All in all, it's of a piece with the insistently annoying and disturbingly imprecise robo-calls with which the John McCain campaign has been haunting homes across battleground states.
Half of life is just showing up
Here's a name we haven't heard in a while.
Christopher Doyle, the 30-year-old former GOP state rep and Windham selectman, was arrested earlier this month on a bench warrant after missing a pretrial hearing in a 2005 case.
The case, you may recall involved Doyle – who, at the ripe age of 26 – was charged with knocking over a 61-year-old female polling place worker during a temper tantrum shortly after learning he lost his bid for re-election.
Dangerous words
John McCain's speeches could be harmful to your health. At least if you're playing drinking games.
During the second McCain-Obama debate – the one with the "town hall" format – a group of Obama supporters on the Seacoast got together for one of dozens of debate parties held by supporters of each candidate around the state. At this one, however, some of those in attendance decided they'd take a drink each time the Arizona senator used the phrase, "my friends."
More than a few people got tipsy, and one woman actually passed out.
The right man for the job
When last F&J readers heard of Nick Ashooh, the Manchester native's lawn was featured on a bag of Scotts Turf Builder.
But in real life Ashooh is the one-man equivalent of a corporate communications SWAT team, having cut his PR teeth as spokesman for Public Service of New Hampshire, back in the days when the utility owned and was still building the Seabrook nuclear power plant. Not exactly all lollipops and roses, to put it mildly.
After that, Ashooh got a relative break, going on to work in corporate communications at a variety of firms, including Paramount Communications, the New York utility Niagara Mohawk and the Ohio-based mega-utility American Electric Power.
Lately, however, you couldn't blame Ashooh for suffering some PTSD symptoms. Since 2006, he's been senior vice president of communications for AIG, the now-infamous, and federally bailed out, insurance giant.
F&J TOTE BOARD
| | |
| --- | --- |
| Joe Kenney: | The Republican gubernatorial candidate admits in a debate that his rival, Gov. John Lynch, is "as popular as the Pope." |
| Jim Tobin: | The 2002 phone-jamming mastermind – whose 2005 conviction was overturned on appeal – is indicted anew on two felony counts of lying to federal investigators for his role in the jamming scandal. |
| Peter Franklin: | The Democratic state rep from Newport becomes the poster boy for legislative mileage after he's challenged for racking up some $21,063 in reimbursements for his 2007 and 2008 travels to and from Concord. |
| Sarah Palin: | In New Hampshire, the vice presidential candidate insists on letting the crowd think she's fully behind the Boston Red Sox in their American League Championship Series. In Florida, she lets the crowd think she's fully behind the Tampa Bay Rays. |
| Jim Ryan: | The former Democratic state rep from Franklin, whose financially felonious past was revealed earlier this year, is released from jail in order to begin paying restitution. |
| Judd Gregg: | The state's senior senator says he "presumes" he'll be running for re-election in 2010. |
It's been making the rounds…
• Considering that the Boston Red Sox comeback fell just a little bit short, you think Sarah Palin regrets comparing the McCain campaign to the Sox while on her New Hampshire tour?
• John Lynch says he "loves" being governor, even with a deficit that's growing by the minute?
• It wouldn't be a shock if Dem Jim Phinizy beats Republican Bob Odell in Senate District 8.
• Likewise Martha McLeod taking John Gallus' District 1 seat.
• Why isn't Libertarian U.S. Senate candidate Ken Blevens included in
most polls?
• It was curtains for Jennifer Horn the moment Paul Hodes voted against the $700 billion bailout bill. And Carol Shea-Porter's similar vote certainly didn't help Jeb Bradley's prospects.
• It's not the most difficult thing in the world to envision a ballot cast for both Obama and Sununu.