Flotsam & Jetsam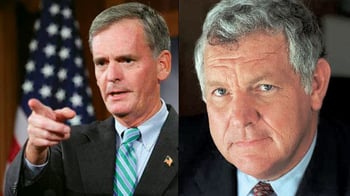 Changes of heart
What's the difference between Bill "Bet the House" Bennett and Judd Gregg?
Bennett was named secretary of education by Ronald Reagan expressly to dismantle the Department of Education. (It never happened, in case you didn't notice.)
In 1995, Gregg voted to disband the Department of Commerce and has now been picked to head it.
Moving on up
President Obama's economic program may or may not be the second coming of the New Deal, but by naming Judd Gregg to be his secretary of commerce, he's following in the footsteps of Franklin Delano Roosevelt — by appointing a prominent New Hampshire Republican to a key post in his administration.
In 1935, Roosevelt appointed John G. Winant, who had served three terms as New Hampshire governor, to head the Social Security Office. He later named Winant ambassador to Britain, a post he held during World War II.
Addition by subtraction
An old man was critically ill. Feeling that death was near, he called his lawyer.
"I want to become a Democrat. Get me a change of registration form."
"You can do it", the lawyer said, "But why? You'll be dead soon, why do you want to become a Democrat?"
"That's my business! Get me the form!"
Four days later, the old man got his registration changed. His lawyer was at his bedside making sure his bill would be paid. Suddenly the old man was racked with fits of coughing, and it was clear that this would be the end.
Still curious, the lawyer leaned over and said, "Please, before it's too late, tell me why you wanted to become a Democrat so badly before you died?"
In a faint whisper, as he breathed his last, the old man said: "One less Democrat."
You gonna stand there and take that?
Sure there's been a lot going on politically in the last few weeks here in the Granite State, but is that a reason for the New Hampshire media to bury a potentially explosive, dare we say slanderous, story involving behavior on the part of lawmakers to our west?
We speak of the Vermont Senate, which earlier this month actually took up a resolution that, in the words of one supporter, calls out its New Hampshire counterpart as "a bunch of weaklings." And it wasn't because they won a World's Strongest Legislator competition.
The reason: The New Hampshire General Court canceled its Jan. 28 session after the forecast called for 15 inches of snow.
That caused the apparently more manly – or at least hale and hearty – wing of the Vermont legislature to sponsor a resolution that recognizes the "greater weather fortitude of the Vermont General Assembly in comparison to the New Hampshire General Court."
New Hampshire's response was on the pipsqueaky side. "Yeah, we heard about that. Don't they have anything better to do?" a House clerk told a Vermont newspaper.
But there is a sliver of room for retaliation, if any New Hampshire lawmakers wish to tread there. It turns out that most of Vermont's lawmakers live in Montpelier during the four-month session, meaning they aren't exactly braving 100-mile trips through two feet of snow to make it to one of their sessions. Among them is Richard Sears, D-Bennington, one of the resolution's sponsors and the man who had the temerity to fling the "weaklings" tag at New Hampshire's lawmakers.
Hat trick
The world is falling apart before our eyes, and what's among the items at the top of the agenda of Free Staters/libertarians?
Milford District Court rules forbidding the wearing of hats in the courtroom.
The whole thing began after two Keene men – Corey Moloney and Charles Gerlach — were charged with disorderly conduct after refusing to remove their hats after being asked to do so by court officials.
According to a report in the Milford Cabinet, Moloney walked into the courtroom with a winter hat on despite being asked repeatedly to remove the hat or leave. He refused to do either and was arrested. Gerlach was standing in the doorway to the courtroom with his hat on, and when court staff asked him to remove his hat and get out of the way, he refused.
"He said, 'You are going to have to remove me yourself' so we dragged him out," said bailiff R.D. LeFebvre.
A sign posted on the courtroom door states that anyone who wishes to enter must remove hats and head coverings.
Gerlach and Moloney pleaded not guilty and are due back in court Feb. 25 for trial.
They joined members of a group of libertarian protesters who went to the court to call for the release of Michael Barskey of Derry, who was facing charges for failing to appear in court Jan. 15. Barskey was arrested in Amherst on Jan. 2 and charged him with carrying a loaded handgun without a license and transporting a bottle of beer with a broken seal in his car.
"We think someone who hasn't hurt anyone shouldn't be in jail," said protester Kat Kanning, who runs the New Hampshire Free Press, a libertarian newspaper.
F&J TOTE BOARD
| | |
| --- | --- |
| Joe Kenney: | The former state senator and GOP gubernatorial candidate is recognized by the Humane Society of the United States, for his sponsorship of a bill to toughen anti-animal fighting laws. |
| Judd Gregg: | The commerce secretary-designate is declared an "Enemy of Poker" for his support of the Unlawful Internet Gambling Enforcement Act. |
| Kevin Koonce: | The former aide to Judd Gregg is alleged to have accepted thousands of dollars in free meals, drinks and sports tickets from a deputy to disgraced lobbyist Jack Abramoff for whom he placed items in spending bills. |
| Todd Boulanger: | The Manchester native, former aide to U.S. Sen. Bob Smith and former deputy to Jack Abramoff pleads guilty to lavishing congressional staffers with gifts. |
| Daphne Kenyon: | The economist who lost a state Senate race to Republican Bob Letourneau in November, is the prime Dem candidate for a special House election in Salem. |
| John Lynch: | The governor switches his standard for supporting gambling legislation from last year's requirement that he see "overwhelming" evidence in order to endorse it to this year's "compelling evidence." |
It's been making the rounds…
• If Kelly Ayotte ends up running for the U.S. Senate and winning in 2010, wouldn't that be like replacing one Lynch Republican appointee with another?
• Boy, Ray Buckley and Kathy Sullivan sure picked up on this "bipartisanship" thing pretty quickly, didn't they?
• Maybe John H. Sununu, the state GOP's new head honcho, should consider hiring John Lynch as a consultant in his quest to revive the Republican Party.
• The reality is that Bonnie Newman could never win a New Hampshire GOP primary.
• When the governor ruled out running for the U.S. Senate nomination, was he talking only about the Democratic nomination or the Republican one too?