Flotsam & Jetsam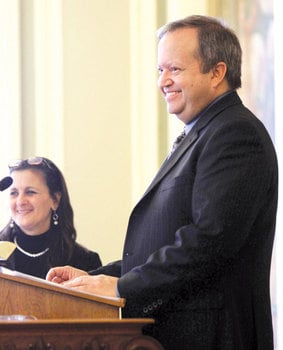 The death of Walter Peterson on June 2 brought a flood of memories and tributes from people all over the state – and of all political stripes – who fondly remembered the former governor. So it came as no surprise when several of the state's current political leaders felt the need to weigh in on Peterson's legacy.But — considering Peterson's reputation and actions as what they nowadays call an "old-fashioned" moderate Republican who eagerly worked with politicians on both sides of the aisle to find solutions to problems — some of the tributes seemed (how can we put this delicately?) somewhat forced.For instance, in his statement, House Majority Leader D.J. Bettencourt mentioned the obvious ("the name Walter Peterson is synonymous with the term 'public servant'") and the obligatory "Walter Peterson was a statesman in the truest sense of the word").After that, though, Bettencourt seemed to be at a loss for words. So what does a politician do in a situation like that? Why, keep talking, of course: "I came to know him personally as we shared a common passion of wanting to see the sport of baseball restored to the University of New Hampshire."Obviously, they had a lot in common.Then there's the disingenuous statement from the likes of Congressman Frank Guinta, whose statement merely ticked off high points of Peterson's biography, ("Governor Peterson's life was spent in service to the state he loved. From his military service in the Pacific during World War II to his days in the State House, he always found ways to serve his fellow Granite Staters. As Governor, he was deeply involved forty years ago with many of the same fiscal issues we're dealing with today … Even after leaving the Governor's Mansion, Walter Peterson's tradition of service continued …."Heartfelt? Before you answer that, consider Congressman Charlie Bass' statement: "Governor Peterson served New Hampshire with honor and distinction. By putting principles above politics, he was a true statesman in every sense of the word and represented what is good about public service. From his time in the U.S. Naval Reserves, to his service as Governor and later as President of Franklin Pierce College, Governor Peterson has made a lasting impact on our state. I was fortunate to have known him and to call him my friend."Then we have what can only be called the absurd.
In paying tribute to Peterson, Senate President Peter Bragdon – after praising his "legacy of outstanding public service" – continues with this odd construction:"It seems only fitting that we remember Walter today having just voted on the budget that includes our determination to reform state government. During his time as governor, Walter led efforts to reorganize state government so that it operated more effectively at less cost. Clearly, his spirit is alive and well in the Senate Chamber today."Actually, Senator Bragdon, considering what Walter Peterson stood for and accomplished, it's pretty clear that the only thing his spirit would be doing if it were "alive and well in the Senate Chamber" today would be haunting it.
Tipping pointEven if the right-to-work bill veto override doesn't see the light of day, there's one thing you can say about the Republican leadership in the Legislature: they've dutifully crossed off their list a whole slew of measures having to do with employees, from public employee pensions to getting rid of the state minimum wage.So what else could possibly be on their agenda?How about those money-grubbing employees who earn tips? Right now state law allows owners of restaurants to pay their tipped employees a subminimum wage – $3.28 an hour – on the presumption that they make enough in tip money during the week to bring them above the standard minimum of $7.25 an hour.So when House Bill 494 came up for a hearing earlier this month, some eyebrows were raised over its provision to include as one of those subminimum "tipped employees" people who run card games and other games of chance – and who occasionally get tips from particularly generous winners.At the hearing, lobbyist Curtis Barry, representing the River Card Room in Milford, argued that the laws stacked the deck against facilities that aren't restaurants and can't pay those tipped employees a subminimum wage.Apparently, at that point, a light bulb went off in the mind of House Labor Committee Chair Gary Daniels, R-Milford, who asked "if the committee would like to do something more generic" in terms of tipped employees. In other words, rather than making exceptions one at a time, do it all at once."It's a matter of parity – right now, all kinds of different people get tips, but we are tied up with the outdated law that only restaurants have them," Infantine said.As you might expect, that raised the dander of Democrats on the panel, particularly Jeffrey Goley of Manchester. "Are we here to expand the number of employees that are going to receive a tipped wage? Are we looking to lower the wages of American workers?"He added: "I can't support this."But Tammy Simmons, R-Manchester, could. "It doesn't make sense that if they are serving you a beer it's OK, but if they are parking your car, it isn't. As long as they are making enough tips to make the minimum wage, why should we care?" Such workers make so much money in tips, echoed another Republican, that "they don't need our help."Added Simmons: "I think we should be abolishing the minimum wage and let the free market reign," fired back Simmons.Which brings us to William Infantine, R-Manchester, who tore into Democrats, who he said were "starting with this negative attitude, that someone is trying to screw someone here. We are trying to solve a problem, and it was huge quantum leap that we are going after 20,000 workers to feather the pockets of the owners. I know we are having certain issues on the House floor with certain leaders, but we don't have those issues in this committee."Anyway, those "leaders" were never named (OK, take a wild guess) and the issue was not resolved at the end of the day. But don't be surprised if you hear about it again before the end of next year.F&J TOTE BOARDJon Huntsman: A day after the June 13 presidential debate at St. Anselm College — which he skipped — the former ambassador to China announces his candidacy for president.Newt Gingrich:The GOP presidential hopeful decides to continue on with his campaign, despite the loss of all of his top aides — including New Hampshire's Dave Carney.Ray Wieczorek:Governor Lynch signs a bill naming the new Manchester-Boston Regional Airport access road after the GOP executive councilor.Jim Forsythe:The Republican state senator from Strafford and Ron Paul devotee is named chair of Paul's 2012 presidential bid.Sue Emerson:The Rindge Republican rep, and a victim of Speaker William O'Brien's occasionally intimidating tactics, says she's planning to sponsor a bill next session that would ban bullying in the State House.Red Hampshire:The conservative website goes blank after several years of competing with its Blue Hampshire counterpart, not to mention other conservative websites in New Hampshire.Brandon Stauber:The Sonoma, Calif., winery owner tells CBS that he decided to move to Exeter, N.H., so he could have a vote in a primary that actually mattered. He tells CBS he never met a presidential contender in all his years in California, but "in just nine months in New Hampshire, he's met four."
It's been making the rounds…• Jon Huntsman must be kicking himself that he decided to take a pass on the June 13 Republican presidential debate.
• The decision to keep Gary Johnson out of the June 13 debate really looks stupid in hindsight.
• Memo to Ron Paul: The gold standard shtick doesn't have the same legs as the anti-war one did.
• For a real learning experience, check out the survey, "How educated are state legislators?"