Flotsam & Jetsam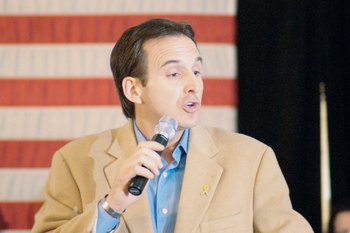 Sarah Palin, the former reality TV star, is actually flirting with the idea of bringing her red-white-and-blue concert tour bus to New Hampshire. But nothing's cast in stone yet, because she might lose her Fox face time if she shows up at the Salem rest stop.
In other words, if she actually becomes a candidate, she loses all that Fox face time – and the $1 million-a-year salary she gets from the cable channel.In March, Fox News suspended contracts with a pair of contributors, Newt Gingrich and Rick Santorum, because they were gearing up for presidential runs.Gingrich has since announced his run, and Santorum is planning to make it official on June 6.Besides, if Palin actually does show up in New Hampshire – a place she has only visited once, as John McCain's vice presidential candidate, and has since scrupulously avoided ever since flirting with the idea of running for president – one question remains: Will she actually take questions from the press this time?
Stimulating assertionsRepublican presidential candidate Tim Pawlenty has called the federal stimulus spending a "Ponzi scheme," but that didn't stop him from making his first Official Presidential Campaign Stop last month at Cirtronics, a Milford company that received almost a million bucks in stimulus money back in the day.But no one said self-reflection, or even consistency, is a politician's strong suit – especially one running for president.Cirtronics' $935,135 in tainted American Recovery and Reinvestment Act money came through a subcontract with Reveal Imaging Technologies.An interesting factoid: Pawlenty insists on saying that all that stimulus money spent by the Obama administration was "largely wasted," but as governor of Minnesota he managed to balance the state's budget in the two-year cycle before he left office at the beginning of 2011, thanks to $2.3 billion in – you guessed it – federal stimulus money.
No way to treat a commissionerIn a legislative session loaded with backroom deals and super-secret projects, add the push to lease the state-run Cannon Mountain ski area to the list.Turns out the Senate Finance Committee – or at least most of its members – has a thing for leasing Cannon, so much so that it's done as little as possible to find out other views on the matter, or apparently even doing the math to see if a lease deal would pay off for the state.The committee late last month inserted into House Bill 2 – the budget trailer bill, for those keeping score at home – a measure that would not only explore whether it's a good idea to lease Cannon, but to get the deal done ASAP. The measure zeroes out Cannon's state budget for the 2013 fiscal year, which means the state would have to find a buyer and get the ink dried on the lease by June 30, 2012.The senators must figure there's a gold mine in leasing Cannon. Well, not so much, since the mountain has been actually brought into the 21st century over the last several years, with expansion into the former Mittersill ski area, serious capital improvements like snowmaking and grooming equipment, and a real-life marketing plan that actually works. The result: four consecutive years of sizable profits, most recently to the tune of a million bucks.Which brings us to the rush job at Senate Finance, which included gutting a House bill that had nothing to do with leasing Cannon, putting in the leasing language and then tacking it on to the trailer bill. Why the hurry?There's not really a clear answer, actually. But even more interesting is the way the leasing plan appeared almost out of thin air.To say the committee made a minimal effort to get the state Department of Resources and Economic Development – which oversees Cannon – involved would be an exaggeration. Actually, it looks like it simply avoided getting any feedback from DRED.Most specifically, it avoided getting feedback from George Bald, DRED's commissioner.A hearing was scheduled on the amendment – an amendment that wasn't available to be read until the hearing itself. Bald was given a couple of days' notice about the hearing, but he had a conflict – he had a long-planned meeting with representatives of a Quebec company that he was trying to get to open operations in New Hampshire. So when he told the committee he couldn't make it, they told him not to worry: He'd be invited back to give his take.But – shockingly – he was never invited back, even after several phone calls by Bald requesting an invitation. (The calls, by the way, were never returned.)So the vote was held, without the DRED commissioner's thoughts on leasing Cannon – a mountain that his agency has worked hard to turn around from its dark days not too long ago."I can understand if people have a difference of opinion about the situation, but at least have a discussion about it," said the usually unruffled Bald, who admitted he was "pissed off" about the behind-the-back deal. "I don't think it's a fair situation."What's most disturbing to him is that backers of leasing Cannon "are just not thinking this stuff through at all."First, according to the commissioner, the money brought in by Cannon is dedicated to funding the parks system, not the general fund – which raises questions about the sudden urgency to push for leasing.Second, it's safe to assume that at least some of the 30 or so full-time jobs and 250 to 300 part-time jobs at Cannon will be in jeopardy – not exactly a heartening prospect in the North Country.Third, does anyone actually know if a reputable bidder can be found by June 30, 2012?Fourth, one of the major arguments over the leasing of the state-owned Mt. Sunapee ski area was that money earned through that deal would be used to ensure that Cannon remained in public hands.Fifth, Mt. Sunapee was not doing well at the time it was finally leased. The same can't be said for Cannon.Sixth, because Cannon is located inside Franconia Notch State Park, leasing will involve a much more complicated transudation than at Mt. Sunapee, which sits by itself. (See the third concern.)Regardless of the arguments for or against, though, what really gets Bald's goat is the quasi-secret dealings surrounding the whole affair."It just appears to me that when you intentionally do things to get less attention to do something, it's not because you have the strongest argument in the world," said Bald.F&J TOTE BOARDWilliam O'Brien:After apparently reading the right-to-work tea leaves, the speaker of the House decides a surprise vote is the only way a veto override is going to fly.Richard Head:The associate attorney general's promotion to deputy attorney general is defeated, 4-1, by an Executive Council with the Financial Resources Mortgage debacle on its mind.Newt Gingrich: On a trip to New Hampshire, the former speaker of the U.S. House takes a page out of Bill Clinton, circa 1992, and calls himself the "comeback kid."Rick Santorum:The former Pennsylvania senator plans a June 6 announcement of his presidential bid.Rudy Giuliani: The former "America's mayor" shows he's still thinking about running for president again, with a June 2-3 return to New Hampshire.
It's been making the rounds…• Could it be that school-funding amendment backers have actually come to the realization that the wording they have right now has as much chance of being passed by New Hampshire voters as a vote on merging with Massachusetts?• Looks more and more likely that John Lynch is getting geared up for a fifth gubernatorial campaign.• A lot of Republicans were taking notes when Speaker William O'Brien pulled his "it's my ball and I make the rules" ploy on the right-to-work bill, particularly his summary execution of Rep. Tony Soltani's effort to seek a veto override vote.