Flotsam & Jetsam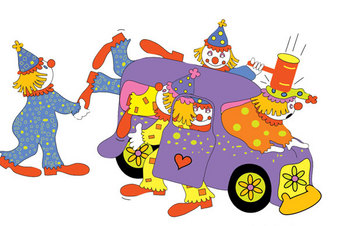 Focus hocus pocus
He may be showing an increasingly short fuse over the lingering comparisons of this year's version of the New Hampshire House to a circus, but Speaker Bill O'Brien is looking more and more like a befuddled ringmaster watching the stream of clowns emerge from the Volkswagen with no end in sight.
Just a week or so ago, and to great fanfare, the speaker and his majority leader insisted that this year's legislative session would not stray from its focus on fiscal issues – most importantly, the budget.But despite the promises, and even a few subtle threats, O'Brien and Majority Leader D.J. Bettencourt are still trying to rope all those wandering legislators back onto the reservation – and the second month of the session is already well under way.Consider that in just one day of news coverage – Feb. 8 – constituents who voted for that laser-like focus on fiscal responsibility instead were treated to this news:• An intraparty debate on whose bill to remove license requirements to carry concealed weapons would better salve the concerns of the gun rights lobby.• A hearing on House Bill 631, which would repeal the statewide kindergarten requirement.• A possibly unnecessary, and likely DOA, constitutional amendment to ban an income tax in New Hampshire.• Bills on home schooling, including one that repeals the state's authority to make rules on governing the practice.• A bill that would forbid the state from entering into a contract with Planned Parenthood, even thought it is the single largest provider of family planning programs in the state.That's one day, mind you. And it doesn't include the part about the new pledge by the House Republican leadership to come up with a budget that would cut spending by 2 percent in 2012 and 2013.How does that fit in with the focus hocus pocus? Consider that the free-spending Democratic governor's already preparing a budget with at least a 5 percent cut.
Casting another stone
You'd think Speaker O'Brien would have first learned to keep his own House in order before insulting "towns such as Plymouth and Keene and Hanover" that have "lost the ability to govern themselves" because college students have the right to vote where they live.
Bill of bads
In the kerfuffle over dueling bills to eliminate license requirements to carry concealed weapons comes a couple of interesting observations by Rep. Steve Cunningham, a Sunapee Republican.Cunningham, who made his comments in a Concord Monitor article, was asked to assess the more wide-open bill that caused House leadership to circle the wagons earlier this month.Prime sponsor of that bill – which House Speaker Bill O'Brien called "an unacceptable risk" – is GOP Rep. J.R. Hoell of Dunbarton.Of Hoell, said Cunningham in a tone a millimeter shy of condescending, "We have a very nice, very intelligent but freshman representative" who sponsored a bill that "required so much of a rewrite that that is beyond the scope of a committee."Not exactly a rave review, would you say?Well, here's an interesting factoid: Cunningham was an early co-sponsor of the bill but stopped supporting it after learning of its details.What's that? He didn't read the bill first? Hmmm … where have we heard that one before?
F&J TOTE BOARDCharlie Bass: The 2nd District congressman is listed as one of the 19 "most vulnerable" GOP congressmen by the Democratic Congressional Campaign Committee.
Will Wrobleski: Before even taking a step, the new executive director of the state GOP starts off on the wrong foot by dismissing possible presidential contender Tim Pawlenty.
Shannon Shutts: The new House information officer raises a few eyebrows with her less-than-even-handed attitude toward the Democratic minority.
Dan McGuire: The Republican rep from Epsom sponsors a bill that would bypass the Department of Environmental Services' plan and spend $7 million to redirect the flood-prone Suncook River.
Christine Baratta: The former communications director in Jim Bender's losing GOP primary U.S. Senate bid is picked to be the next state party spokesperson.
Maggie Hassan: The former Democratic state senator and potential 2012 gubernatorial candidate is named coordinator of "grassroots outreach" for the state Democratic Party.
It's been making the rounds…• He hasn't quite done the one-eighty on earmarks, but Congressman Frank Guinta's heading in that direction now that he's promised to ensure that the earmark-laden Portsmouth Naval Shipyard remains "strong and vibrant."
• Let's hope budding media magnate Bill Binnie's not looking to model himself after Silvio Berlusconi.
• So what's that they said about Mike Brunelle?
• Who makes it to New Hampshire first, Michelle Bachman or Sarah Palin?
• How nervous are the House's remaining moderate Republicans? Nervous enough to start talking about escape routes.
• Not that it's a surprise, but isn't it a little disconcerting when you see in print that the publisher of an actual newspaper – one Joe McQuaid of the UL – is named one of New Hampshire's top 10 Republican political operatives, as he was in the National Journal?