Flotsam & Jetsam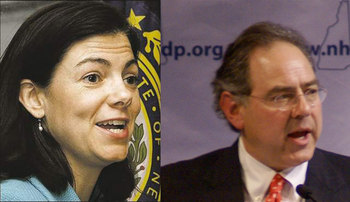 That July 6 Boston Globe article claiming that the governor's office tried to convince Paul Hodes' campaign not to run an ad lambasting Kelly Ayotte after her "the buck needs to reach my desk" testimony in the Financial Resources Mortgage hearings sure has opened a wound among state Dems.On one side are the folks who are one step away from asking to see the actual papers asserting John Lynch really is a Democrat. On the other side are the folks who couldn't care less about where Lynch stands on an issue, as long as he keeps winning.The truth is probably somewhere in the middle on the Globe's Ayotte claim. But it's not that hard a stretch to see the man who is known occasionally to post a yard sign supporting a Republican candidate on his lawn visibly cringe at the idea of dumping on his former AG.
East side, west side
Sarah Palin's recent endorsement of Kelly Ayotte in the GOP U.S. Senate race may have carried a bit more weight if the former Alaska governor actually had spent more than half a day in New Hampshire — and while here didn't refer to the region she was in as being the "Great Northwest."
Crowd control
Just add that July 15 rally organized by the National Organization for Marriage (on its "Summer for Marriage, One Man-One Woman Tour") to the growing list of events whose hype far outweighs its turnout.In fact, the crowd that showed up at the NOM rally at Manchester's City Hall Plaza — about 75 to 80 people — may actually have been small enough to fit inside Manchester Mayor Ted Gatsas' impressively sized Mercedes.And it was one of those rallies at which the number of opponents may have been more impressive than the number of actual ralliers. (There were about 35 to 40 anti-NOM folks keeping an eye on things, including several Free Staters.)And, considering that NOM is going around the country in the hopes of putting gay marriage once again on the front burner of national politics, the turnout of political types was even less impressive.There were Karen Testerman, one of the GOP gubernatorial hopefuls, and Reps. David Bates of Windham and John Cebrowski of Bedford (the rep who last year made a name for himself when he opined, "A peanut-butter-and-jelly sandwich can't be anything other than a peanut-butter-and-jelly sandwich. Creamy peanut butter and chunky peanut butter can never be peanut butter and jelly.")Another GOP gubernatorial candidate, Ovide Lamontagne, sent a message of regret to the crowd for not being in attendance."I think New Hampshire is definitely pro-traditional marriage and ripe for our message," said NOM's executive director, Brian Brown.
Reasons to be cheerful
The economy may remain in a sputtering state, but there are some things to be grateful for.One of them is the assertion of New York Mayor Michael Bloomberg — made during his recent visit to Dartmouth College — that he is not going to run for president.Here's hoping that the mayor — who spoke July 16 at the school, delivering the first lecture in the newly minted Dartmouth Presidential Lecture Series — actually meant president of the United States, and not president of Dartmouth College.F&J TOTE BOARDCarol Shea-Porter: The congresswoman is one of the candidates shut out from a list of Democratic incumbents who'll be getting a share of $28 million in advertising by the Democratic Congressional Campaign Committee this fall.Dennis Hogan: The chairman of the Nashua Republican City Committee and candidate for county attorney, battles revelation that he was reprimanded by N.H. Supreme Court earlier this year for representing a couple seeking a divorce and then striking a deal to reimburse them if they agreed not to seek a malpractice lawsuit.George Copadis: The labor commissioner, originally nominated by former Gov. Craig Benson, a Republican, is nominated for another term by Gov. John Lynch, a Democrat.Steve Forbes: The erstwhile GOP presidential wannabe endorses GOP 1st C.D. hopeful Rich Ashooh.Victoria Reggie Kennedy: The widow of the late Sen. Ted Kennedy will be the featured guest at a Sept. 12 fund-raiser for Carol Shea-Porter.It's been making the rounds…• Considering that more observers are warming up to the idea that Kelly Ayotte isn't going to win the GOP primary, it sure is interesting that the Hodes campaign would still think she's their No. 1 target.• Will environmental officials be prepared to issue an air pollution alert on Friday, Oct. 22? That's the day Fox TV bloviator Bill O'Reilly appears at the Nackey Loeb First Amendment dinner to share stories about how great he is.• Wonder how Warren Rudman feels to be endorsing the same candidate as Sarah Palin?• Paul Hodes going to Canada for a fund-raiser is the political equivalent of throwing a hanging curveball to Albert Pujols.• Perhaps someone should send GOP gubernatorial hopeful John Stephen — who's advocating a rooms and meals tax holiday as economic stimulus — a copy of the new Tax Foundation report questioning the value and fairness of such tax holidays.• Did Sean Mahoney actually tell New Hampshire Public Radio that he quit his RNC post because of his opposition to the bank bailout and wasteful spending? And all along he had us believing it was over GOP Chair Michael Steele's profligate spending.