Flotsam & Jetsam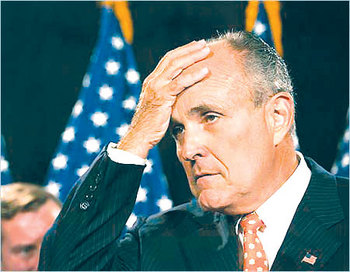 With friends like this …Is there something in the water at the New Hampshire Institute of Politics? The institute, housed at Saint Anselm College, is planning to honor two people on June 10 for their "strong support" of the New Hampshire primary. One's a no-brainer: President Kennedy's New Hampshire campaign manager, Bernard Boutin. The other is the opposite — a what-the-heck-were-they-thinking? The honoree? None other than "America's Former Mayor," Rudy Giuliani. You may recall that in late 2007, shortly before the New Hampshire primary was to be held in January 2008, Giuliani began seeing the writing on the wall for his soon-to-be-failed presidential candidacy and decided to put his dwindling resources in Florida, where he must have figured more than a few residents think they still live in New York.Anyway, hizzoner shifted his strategy from both New Hampshire and Iowa in the waning days before their primary votes, essentially placing all his chips on the bigger states voting on Super Tuesday shortly afterwards.That's all shorthand for he figured New Hampshire wasn't worth spending too much time on anymore.The result? He didn't exactly get what he paid for. He finished fourth in New Hampshire with 8.6 percent of the vote and third in Florida. He called it quits after that.So while Giuliani's "strong support" of New Hampshire's primary could be questioned, the support of New Hampshire primary voters could not.Out of sight, out of mindResults of a recent survey — released at the recent Governor's Conference on Travel and Tourism — raise some interesting, if disconcerting, questions about perceptions of New Hampshire from "outside."First, the survey of consumers found that — unlike neighboring Vermont's cows or Maine's lobsters — there's no one icon that evokes the Granite State. (Not even a pet rock?)Second, the respondents had relatively skimpy knowledge of the state, compared to Maine and Vermont.Third, it wasn't just the state's lack of a clear image — the respondents also had slight or no reaction to phrases that are designed to evoke New Hampshire. Not even "Live Free or Die."Which raises point No. 4: If there's no clear perception of the state, does that mean no one really cares if New Hampshire doesn't have a broad-based tax?Investment trust?Before being slapped down by the state Supreme Court, state officials were apparently supremely confident that they would win their case involving the $110 million Joint Underwriting Agreement medical malpractice insurance surplus.In fact, at one point the JUA was ordered to take a substantial part of its portfolio and put it into liquid accounts — in other words, cash — so it could quickly be transferred to the Treasury.The result: a loss of $2.3 million in investment income. But things could have been worse — they could have been ordered to invest in Financial Resources Mortgage.
F&J TOTE BOARDSheila Roberge: The 13-term Republican senator from Bedford announces her retirement.Susan Lynch: The governor's wife leaves without penalty — other than having the violation placed on file for six months — after appearing in Concord District Court and pleading not guilty to failing to yield to an emergency vehicle.Wentworth-Douglass Hospital: The Dover facility scrambles to defend itself after a Wall Street Journal articles raises questions about its use of the da Vinci robotic operating system.John DeJoie: The state rep and Concord firefighter ends his bid for the Democratic 2nd C.D. nod and endorses ex-rival Katrina Swett.Apple cider: The Legislature sides with students from the Jaffrey Grade School over their counterparts at the Gilford Elementary School (who supported milk) and names apple cider as the Granite State's official beverage.Vanessa Sievers: The Dartmouth College student/Grafton Country treasurer apologizes to county lawmakers who had called for her resignation, saying she is taking steps to match her schedule to her duties as a part-time elected official.Richard Brothers: The former employment security commissioner is acquitted of fraud charges involving the submission of travel vouchers for reimbursement.It's been making the rounds…• OK, let's get this straight: There's a complete failure of communication among three key state agencies in the FRM debacle, and everyone gets to keep their job, save the one guy who resigned after squawking about the failure the most.
• If the AG's report and legislative hearings about FRM are a prelude to combining Banking, Securities and Insurance into one mega-department, let's hope they do a little more than their usual cursory vetting to find someone to head up the operation.
• There's no truth to the rumor that John Lynch's poll numbers shot up in Nashville during its devastating floods this month.
• What is the all-time record for disaster declarations by non-Gulf of Mexico states anyway?
• They're starting to raised the "L" word with Katrina Swett: "L" as in Lieberman, the former Democrat whose '04 national presidential campaign she co-chaired.
• You don't think Kelly Ayotte — who initially sought prosecution of former Employment Security Commissioner Richard Brothers — is going to get a free pass from the GOP on his subsequent acquittal, do you?
• If Charlie "Tea Party" Bass isn't getting a little concerned about the inroads being made by 2nd C.D. GOP primary opponent Jennifer Horn, he should.