Flotsam and Jetsam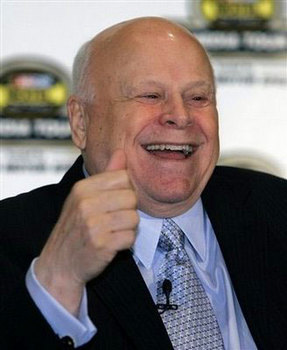 Let's put it this way: race track magnate and car dealer megastar Bruton Smith does not exactly top anyone's list of sensitive males, or sensitive car dealers, for that matter.Smith's Speedway Motorsports Inc. owns the New Hampshire Motor Speedway in Loudon, which, he likes to remind the locals, pretty much owns the economy in those parts, at least the way he sees it.Anyway, the sensitive side of Smith emerged earlier this month when he so delicately referred to the site of Homestead-Miami Speedway in Florida – site of the Sprint Cup season finale – as "North Cuba."As in: "If you're going to do a championship, you've got to do it at the proper place, and I don't think North Cuba is the proper place."Further proof that the ability to make millions of dollars doesn't correlate to intelligence.Ovide for governor?What was the price Ovide Lamontagne received for bowing out so gracefully from what could have been a bitter recount battle in the GOP U.S. Senate race?How about an endorsement by a future Republican U.S. senator if the Manchester attorney chooses to run for governor in 2012? After all, if Ayotte is elected and does endorse him, that makes him the front-runner in a crowded field and brings lots of money his way.The muddled ride of Paul RevereApparently it's not just the former mayor of New York City but the former governor of New York state who also plays fast and loose with politicizing 9/11.In a talk earlier this month at the Bedford Village Inn, former New York Gov. George Pataki urged that the response to the Great Recession be viewed in the same way as the September 11th terror attacks, calling it a "crisis" during which the federal government has hijacked the hopes and dreams of everyday Americans, according to the Union Leader.The man who founded the organization Revere America called on voters to run, not walk, to the ballot box the same way thousands of New Yorkers ran to help victims after the Twin Towers were attacked."We need to rush to the political process. We need to rush to the polls," Pataki said. "We need to speak out in this crisis."All well and good. But if you're going to spend your time comparing the Great Recession to 9/11, wouldn't it be more accurate to talk about the unfettered greed and subsequent meltdown of Wall Street and the failure of the federal government to acknowledge there was any kind of problem in the housing market as the actual attack on the economy and the subsequent response – TARP, stimulus, etc. – as the decisions to invade Afghanistan, and in particular Iraq?Sage words from the soothsayerLost in the brouhaha over his "vermin" comment was state GOP Chair John Sununu's declaration in the same September New York Times interview that, "We will win everything in New Hampshire in November 2010."You read it here, folks.F&J TOTE BOARDTim Pawlenty: The Minnesota governor sends six staffers of his political action committee to New Hampshire to offer support for Republican campaigns on the eve of the Sept. 14 primary.Anthony DiFruscia: The state rep from Windham switches his affiliation from Republican to undeclared after losing a primary race that included a mailer depicting DiFruscia as a flasher at an elementary school and another to make him look like he was presiding over a gay marriage.
According to DiFruscia, the senders included libertarian Republican groups in New Hampshire, the National Organization for Marriage in Washington, a right-to-work group, and a group called "New Hampshire Citizens for Truth."Peter Spaulding: The former executive councilor goes one-for-two on primary, losing his bid for the GOP nod for the council, but holding on to win nomination for another term as Merrimack County commissioner.Cynthia Dokmo: The longtime GOP state rep from Amherst loses in her bid for a ninth term after being edged out by a 23-year-old political newcomer in the Sept. 14 primary.Ryan Murdough: The avowed racist and white nationalist from Ashland finishes last in a field of five in a Republican New Hampshire House primary.
It's been making the rounds…• The Hodes campaign could do worse by coughing up the six figures you need to do it and getting Sarah Palin to finally come to New Hampshire.• Yes, it's true: If Charlie Bass wins November's election, he will retain his seniority from his previous six terms as a congressman – if, and only if, the GOP retakes the U.S. House.• Then again, there are some who say Paul Hodes is reminding them more and more of Chuck Schumer every day.• Will Kelly Ayotte be asked about FRM more often than Frank Guinta is asked about the half-million bucks?• You get a sense Katrina Swett is a woman in search of a political party.• It's fair to say the Tea Party barely served a cup in New Hampshire, at least for the primary.• Bill Binnie: $6.2 million, $319 per vote. 'Nuff said.• Funny how relentless the AG's office is in pursuing a liquor commissioner, but when it comes to $80 million Ponzi schemes, not so much.• So what exactly is Mitt Romney's plan for '12?