Flotsam and Jetsam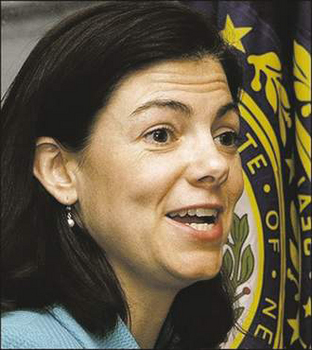 You've heard it before — many, many, many, many times — that it's not possible for jobs to be created by government. More specifically, as GOP Senate hopeful Kelly Ayotte wrote in a recent op-ed piece, "Hard-working American business owners create sustainable jobs – not government." It's a thought that's echoed by all of her opponents, and in fact all of her fellow Republican candidates in the various 2010 primaries.Actually "echoed" may not be the appropriate term. The candidates actually are trying their best in a competition to shout this mantra the loudest, from the highest rooftop.Funny thing: a random survey of the field by F&J has produced some mighty interesting data on the job histories of so very many of the leading GOP candidates in 2010. Considering she's the one we've started the research report off with, let's look at Ayotte's resume: deputy attorney general for the state of New Hampshire; counsel to the governor of the state of New Hampshire; and attorney general of the state of New Hampshire. Analysis: They all look like public sector-created jobs to us. Frank Guinta, 1st Congressional District candidate: insurance consultant; staffer to former Congressman Jeb Bradley; mayor of Manchester, N.H. Analysis: one of three in the private sector, batting .333.Bob Bestani, 1st C.D. candidate: Bush I administration appointee in the U.S. Treasury Department; executive with PriceWaterhouseCoopers; director general of private sector finance in the Asian Development Bank (an institution funded by 67 governments around the world); visiting scholar, Collaboratory for Research on Global Projects at Stanford University (an entity funded by "government and industry sponsors." Analysis: We'll give him a .500 average, but we're obviously grading on a curve here.Rich Ashooh, 1st C.D. candidate: staffer to U.S. Sen. Gordon Humphrey; staffer to U.S. Sen. Warren Rudman; executive, BAE Systems. Analysis: Considering that the defense industry wouldn't exist without governments as its sole customers, we'll let you be the judge.John Stephen: gubernatorial candidate; U.S. District Court law clerk; assistant Hillsborough County attorney; assistant attorney general, state of New Hampshire; assistant commissioner, New Hampshire Department of Safety; commissioner, New Hampshire Department of Health and Human Services; partner, The Lucas Group, where his biggest clients have been the states of Rhode Island, Illinois and South Carolina. Analysis: Do we really have to?Final analysis: Obviously government can create jobs, even good-paying ones — it just doesn't always find the right people to fill them. Shooting scriptThere's shooting from the hip, shooting from the lip and shooting yourself in the foot. What was Jack Kimball's choice?At a recent meeting with the editorial board of the Nashua Telegraph, Kimball, a candidate for the Republican nomination for governor, discussed his plans, proposals and platform. Among his suggestions is the one he seems proudest of: to repeal the business enterprise tax and dramatically change the business profits tax by cutting the 8.5 percent rate for companies with higher profits to as low as 4.5 percent. His logic, if you can call it that, involves the claim that businesses are "doing their best to avoid having to pay" the tax. Under his proposal, "you are going to invite the tax." Got that?Only one problem — well, the biggest problem — with the plan: the New Hampshire Constitution specifically says that state taxes have to be "equal and proportional." In other words, a tax can't have different rates based on amount of income, earnings — whatever. In other words, it's a flat tax or nothing.But when advised of the minor hurdle, Kimball barely flinched. "We'll have to see about that," he told his interviewers. F&J TOTE BOARDPaul Hodes: The congressman, after pouncing on his GOP U.S. Senate opponents for failing to support extending unemployment benefits, misses the vote.Jim Coburn: The 2006 GOP gubernatorial candidate endorses Ovide Lamontagne in the Republican U.S. Senate primary.Ayla Brown: The former "American Idol" contestant and daughter of Massachusetts Sen. Scott Brown appears at a fund-raiser for New Hampshire GOP Senate hopeful Jim Bender.Judd Gregg: New Hampshire's senior senator incurs the wrath of the GOP's rightest wing by voting to confirm Elena Kagan for the Supreme Court.Free Staters: Three members of the Free State Project are arrested after refusing to dispose of alcoholic beverages during a Keene City Council meeting.State Asset Review Commission: The legislative panel begins meetings to discuss putting up a "for sale" sign on state property.David Lovejoy: An employee for Comcast accuses the Hampton resident and candidate for Rockingham County sheriff of telling him to leave his property while holding a gun.It's been making the rounds…• It still makes absolutely no sense that the "Teflon Dan" — Dan Eaton, state rep from Stoddard at the center of the investigation of Liquor Commission Chairman Mark Bodi — remains unscathed throughout the whole thing.
• Nice to see there's some blood in the veins of 2nd C.D. Dem candidates Ann Kuster and Katrina Swett, but is anybody really paying attention to what they're saying?
• What does it say about the state of the English language when someone like Bill Binnie can be called "hopelessly liberal"?
• Funny how Carol Shea-Porter just keeps plugging away, while most, if not all, the wise guys have given her re-election up for dead.
• They actually referred to Jennifer Horn as a "journalist" in the WMUR Granite State Poll of 2nd C.D. voters?