Flotsam and Jetsam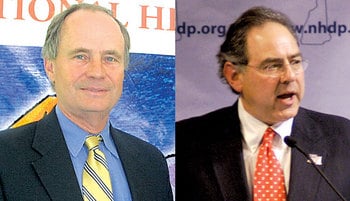 If Congressman Paul Hodes' problem is that he's perceived as the "incumbent" in the U.S. Senate race, does that mean that Charlie Bass, the former congressman looking to regain his seat in the 2nd C.D., is perceived as an "incumbent" too? If he is – and it's not that much of a stretch to argue that he is – that's gotta mean plenty of sleepless nights for the Bass folks in the weeks ahead.
Relationship wreck
Every so often, the media from "out there" show just how their hit-and-run coverage of New Hampshire politics falls short.Such was the case in The Boston Globe's recent report on John Lynch's re-election chances. In running down the obstacles to any clear sailing by the governor, reporter Brian Mooney actually referred to embattled Liquor Commissioner Mark Bodi – the man Lynch has left twisting in the wind – as the governor's "friend."Wouldn't "former friend" be more accurate?
Stranger things have happened
Sure, it's a long shot, but wouldn't it be something if the 1st C.D. race in November is between Democrat Carol Shea-Porter and Republican Bob Bestani – and she's the one who's viewed as more pro-Afghanistan war?
Salt on the wound
A recent Siena poll of 238 presidential scholars had some more bad news for poor ol' Franklin Pierce.The poll, which ranks the top presidents in American history, found that Pierce – the only president from New Hampshire – ranked fourth from the bottom, right behind James Buchanan and just ahead of George W. Bush.To add insult to injury, it appears that in the fall – after all accreditation approvals are granted – Franklin Pierce Law Center will be no more. Instead, it will be called the University of New Hampshire School of Law.What a revoltin' development this is.
Hyperbole is Job 1
Hyperbole, as we know all too well, is the coin of the realm for politicians. Whatever they're spouting off about – the economy, war and peace, immigration, soccer – our elected officials and wannabe elected officials can't help but turn the rhetoric dial up to 11.John Stephen earlier this month tried his best to keep the volume up with a claim that one in six New Hampshire residents is in some kind of indentured servitude because they "have to leave the state for a job."Besides trying to set back the cause of interstate commerce faster than you can say "Articles of Confederation," and considering that thousands of New Hampshire residents commute out of state every day for higher-paying jobs along Route 128 in Massachusetts and the Portsmouth Naval Shipyard in Maine (to cite two examples), perhaps it would have been more accurate for the candidate to use the phrase, "choose to leave the state for a job."After all, he should know that as well as anyone. Consider that after he left state employment a couple of years ago, he found himself a job with The Lucas Group, a consulting firm whose offices are located at 116 Huntington Ave., Suite 504, Boston, Massachusetts.And while you're at it, pay no attention to that lowest-in-the-region unemployment rate behind the curtain.F&J TOTE BOARDJennifer Horn: The 2nd C.D. Republican hopeful garners 55 votes to win a Coalition of New Hampshire Taxpayers straw poll, 19 votes more than runner-up Bob Giuda, and 42 more than Charlie Bass.Nashua: Money Magazine ranks the Gate City 94th on its list of the 100 "Best Places to Live in America" – the only New Hampshire community to be included.Ovide Lamontagne: The Republican Senate candidate finds himself in the sights of the New Hampshire Firearms Coalition, which is attacking him for supporting "safe schools" legislation – which it says was a "statewide gun ban" – when he was chair of the state Board of Education.Cissy Taylor: The information officer for the New Hampshire House finds out Aug. 1 is the last day on the job, thanks to budget cuts.John E. Sununu: The former U.S. senator signs up with Akin Gump Strauss Hauer & Feld, a Washington lobbying firm.Bob Smith: The former U.S. senator, off-again, on-again Republican and current resident of Florida, gets ready to revisit New Hampshire to attend a fund-raiser for John Stephen.
It's been making the rounds…• That new statewide automated emergency phone messaging system – how long before some desperate state official decides there's money to be raised by running advertisements along with the message?• Has anyone else noticed that, since deinstitutionalization in the 1980s, New Hampshire politics seems to be moving ever so steadily beyond the fringe?• With Ryan Murdough, the avowed white racist and anti-Semite, seeking to run for the New Hampshire House as a Republican, the GOP better watch out that its big tent doesn't become a big sheet.• What is it about certain politicos that, when they try to discuss why they're against gay marriage, they end up with a self-inflicted pie in the face?• So Sarah Palin's PAC doles out $87,500 in political contributions – including $2,500 to California multi- millionaire Carly Fiorina – and not one thin dime to any New Hampshire candidates.