Fiscal fallout big concern at forum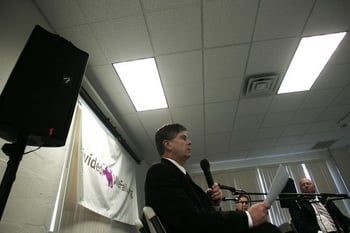 NASHUA – After Paul Tyree retired last year, he and his wife, Ellie, took off on a long-awaited road trip. They motored across country, taking in Yellowstone National Park and Mount Rushmore.
In short, the Nashua couple did what they'd always wanted to do.
But now, with the financial collapse of the nation's economy, the Tyrees are watching their wallets much more closely.
"These things dictate caution," Tyree said of the economic times, adding that he'd spent two hours Tuesday staring at his financial portfolio, wondering if he ought to cash in. "We'll be digging in."The Tyrees were among a crowd of about 40 folks who gathered Tuesday at Harbor Homes for a "community conversation" about health-care costs and financial security. The forum was initiated by Divided We Fall, a nationwide, nonpartisan organization that wants elected officials to make those two topics a priority.
A panel including financial advisers, a Social Security representative, a doctor and insurance professional talked about the state of both issues.
Michael Klonsky, a financial adviser with Morgan Stanley, said he's seen economic peaks and valleys before, but that the current situation "feels really different to me."
In studying the issue, he sees correlations between this financial crisis and the Great Depression.
"Things are going on that nobody understands," Klonsky said. "Personally, I think you have to be very careful."
Panelists suggested consumers take action and make sure their investments are being cared for.
Terrance McMahon, of Mass Mutual Financial Group, said Americans are "chronically underinsured and underinvested." His own mother, a nurse of 48 years, is about to cash in her 401(k), but it won't be enough to cover her everyday expenses.
And things will only get more challenging, panelists said, as a growing number of baby boomers break into their retirement funds.
McMahon suggested companies help young employees better learn how to save and manage their retirement funds.
Nashua resident Esther Waisman said she taught her children about basic financing, such as living within their means and paying off credit cards each month.
Now adults, they put those principles into practice, Waisman said, but she's still concerned for them.
"They're still working, and I'd like them to be able to retire at a decent age," Waisman said. "I don't know that they will be able to if things continue the way they are."
The federal government's proposed $700 billion bailout of troubled financial companies also cropped up at the forum. Klonsky said his firm's position is that in the short term, the plan works because it will "save the economy as we know it."
However, Klonsky said, he doesn't personally believe that Congress should "bail out every firm that creates a mess for itself."
Waisman agreed.
"I think those people should be held accountable," she said.