First to see girl saw dire situation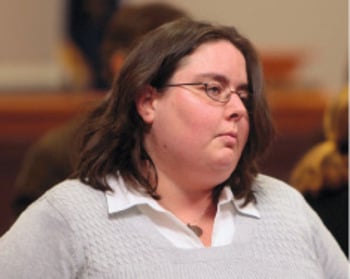 NASHUA – In the end, there was nothing anyone could do for Rylea Belonga, witnesses testified Wednesday.
Her babysitter called 911 after Rylea collapsed on the floor, less than an hour after her mother, Nicole Belonga, dropped her off on the morning of Jan. 6, 2006. A recording of the call was the first spoken testimony jurors heard.
"She won't open her eyes," Angie Baldwin told the operator. "She won't open her mouth.""I don't know what it looks like," she said. "She just fell to the floor, but she's still breathing, and I don't know, she's not moving."
Belonga, 27, of 65 Alder Drive, is charged with second-degree murder, and could face up to life in prison if convicted. Her lawyers argue that Baldwin's boyfriend, David Kaley, injured Rylea while Baldwin popped out for cigarettes. Prosecutors say Belonga injured her daughter the day before and dropped her off at Baldwin's without mention of her condition.
Nashua firefighter Robert Scire, former Rockingham Ambulance medic Roy Olsen, and retired Nashua police officer Gerard Healey were among the first to respond to the 911 call, and all described a similar scene: a little girl in yellow footie pajamas, unconscious on the floor.
"I saw a child lying on the floor, on her side, with somebody over her," Scire said.
"Her jaw was clamped shut, it wouldn't open," he said. "There was vomit right next to her."
Rylea's pulse was weak. She was breathing but not well, said Olsen, now a Hollis firefighter. The mere fact that she was unconscious and unresponsive was a bad sign, he said.
Usually, with children, that's not good, Olsen said. Their bodies should work well, he said, "Everything's brand new."
"She was barely breathing. She had a respiratory rate of maybe, two to four. The normal is somewhere between 20 and 30 for a small child," Olsen said. "Somebody said she had been running around earlier and they had been roughhousing with the other kids and then all of a sudden she collapsed on the living room floor."
Olsen carried Rylea to the ambulance in his arms, he said. She was too small to bother with a stretcher, and her situation too dire. Olsen noticed a bruise on the left side of her head, he said.
"I was really concerned with her breathing and how shallow it was, and that her pupils weren't reacting," he said.
As they got to the emergency room, Olsen said, Rylea began to clench into a curled up position.
"She actually went into decorticate posturing, which is not a good sign," he said. "It's a bad sign, actually."
Doctors agreed. The stiffness in her limbs was a sign of severe brain injury, they said.
Rylea arrived in the emergency room of Southern New Hampshire Medical Center at 8:53 a.m., and was airlifted from there to the Tufts New England Medical Centers Floating Hospital for Children at 10:30 a.m., Dr. Brian Miller said.
Miller also noticed Rylea's bruise, which he believed was only about two hours old, he testified. It could have been more distant, he testified; it's hard to say for sure.
Nicole Belonga has remained stoic throughout most of the trial so far, but began to sob quietly and at length while Dr. Robert Graham described a series of tests and examinations that lead doctors to conclude that Rylea was gone.
Her brain was irreversibly and severely damaged, Graham said.
Rylea had arrived with severe swelling to the left side of her brain, which doctors eventually discovered was caused by an injury to the carotid artery on the left side of her neck, he testified. Something had shut down the blood flow, apparently some sort of compression injury, he said.
The stoppage, in turn, triggered a series of reactions in the brain, which impaired the brains ability to control or regulate its own normal functions.
Once the process starts there's a whole inflammatory cascade, Graham said.
Doctors did all sorts of tests to try to find what caused the injury and swelling, looking for a tumor, blood clot, infection, disease or poisoning, he said.
"By a process of exclusion, we left nonaccidental trauma as our leading diagnosis," Graham said.
The injury was advanced when doctors began treating her, he testified.
"Our assumption is that it had to have happened within the preceding 24 hours. You're not going to see this sort of presentation; you won't see this extensive of an injury right away. It will take several hours, certainly within a 24-hour window. It takes some time for that process to evolve."
Doctors performed a series of tests to determine that Rylea was brain dead, he said, though he added that brain death is actually more of a legal term, than anything.
Eventually, he said, Nicole Belonga agreed to allow doctors from the New England Organ Bank to take over.