First 2009 Nashua-area baby born at St. Joseph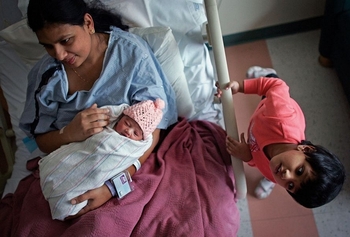 On most days, Sincy Sebastian can be found on the oncology floor of St. Joseph Hospital, where she is a nurse. But Thursday wasn't just another day at the office for Sebastian, who spent her day in another department delivering the region's first baby of 2009.
On Friday, a tiny, dark-haired and wide-eyed Joanna L. George lay bundled up in Sebastian's arms as her father, Luji George, and the couple's older daughter, 3-year-old Leah, looked on.
"She needs the company," George said of his older daughter, who was bouncing around the room.
George and Sebastian, who live in Nashua, met in Cochin, India, about nine years ago. They were friends for four years before marrying, moving to the United States in 2006.
When Sebastian became pregnant a second time, she was given a due date of Jan. 3. However, she started having contractions two days ahead of schedule.
On Thursday morning, labor pains On Thursday morning, labor painswere 15 minutes apart, so she wasn't sure if they were the real thing.
The couple headed to Immaculate Conception church in Nashua for a New Year's service, where her pain started getting progressively worse.
George went to work his shift at Staples and Sebastian went home.
"I just kept on counting," she said of her contraction times.
Finally, around 4 p.m., Sebastian called her husband at work. It was time.
Other firsts. . .
George was on a break when he received an urgent message from a co-worker, and word quickly spread among his other colleagues and even some customers.
"He said, 'My shift is ending at 6. Maybe you could wait 'til then?' " Sebastian recalled with a laugh. "I said, 'Maybe I'll be having the baby at home!' "
George rushed to pick her up and they headed to the hospital.
About five hours later, Sebastian delivered Joanna at 10:39 p.m. "Everything was smooth and nice," Sebastian said.
On Friday, Joanna already seemed to be following in her big sister's footsteps, her parents said.
Leah was born on May 5 – 0-5/05 – and Joanna on Jan. 1 – 0-1/01.
They also share the same birth weight: seven pounds, eleven ounces.
And their parents said they consider both their daughters gifts from God.
"Now, it's really exciting," Sebastian said. "We're praising God everything went well."