Fires damage 2 homes in Amherst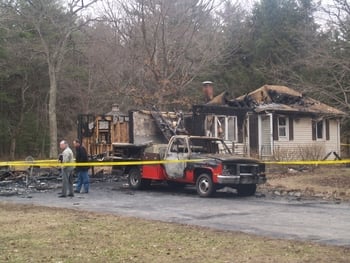 AMHERST – Two homes were heavily damaged in separate, two-alarm blazes Tuesday, but no one was injured.
The first fire was at 11 Aglipay Drive, and the second was at 48 Mack Hill Road. The causes of the fires are under investigation.
The fire on Aglipay Drive was first reported as a garage fire, but when the first responders arrived, the fire had extended from the garage to the home, Fire Chief Rick Todd said. The fire broke out early Tuesday, around 2 a.m.
The Mack Hill Road fire was reported at 11:40 p.m. First responders arrived at 11:47 p.m. and the fire was under control within about 20 minutes, said Todd.
"This is the second two-alarm fire we've had in less than 24 hours," Todd said, on the scene of the Mack Hill Road fire.
The Aglipay Drive home was almost completely destroyed.
On Wednesday, the homeowners Susan and William Frenette, surveyed the damage with an insurance agent. The Frenettes actually live at 13 Aglipay Drive and use the 11 Aglipay home as a rental property. They were in the process of getting ready to re-rent the property when the fire struck.
"We called 911 and Amherst (fire and police) were great, they came right out," Susan Frenette said.
William Frenette's truck was also destroyed, his wife said.
The Mack Hill Road fire was first reported as a basement fire, but upon arrival, firefighters saw the flames had spread to the first floor.
The fire rendered the Mack Hill Road home uninhabitable, at least temporarily. Assessing records indicate the house is owned by Amber Carpenter.
The Mack Hill Road home is set far off the road in the woods down a long dirt driveway. The driveway became a soupy mess in places as water from the fire hoses poured down. On Wednesday afternoon, yellow tape blocked off the driveway.
Firefighters from Milford, Merrimack, Bedford and Mont Vernon responded to the Mack Hill Road fire.
With his camera's strap looped around his neck, Mack Hill Road resident John Prew came out to watch the firefighters do their work.
"I didn't hear any of this, my dog woke us up," he said.