Firefighter hurt in Nashua blaze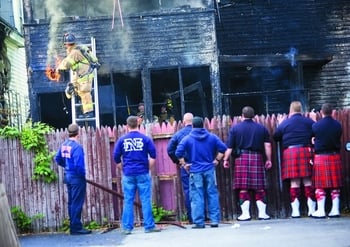 NASHUA – One firefighter sustained minor injuries while responding to a three-alarm blaze on Blossom Street on Sunday afternoon.
Deputy Fire Chief Michael O'Brien said a firefighter was treated on scene for debris in the eye. The fire, at 10 Blossom St., was reported at about 4:06 p.m. and firefighters were on scene in about two minutes, said O'Brien and Assistant Fire Chief Keith Anderson. The fire was under control in about 45 minutes, Anderson said.
As of Sunday evening, the cause was still under investigation, O'Brien said on scene.
There was heavy fire in the rear of the building and the porch area when fire fighters arrived, O'Brien said. "The fire was very well pronounced on arrival," O'Brien said.
The fire spread to the first and second floors and attic, Anderson said.
The building is no longer habitable, O'Brien said. The occupants, whose names were not available, are apparently staying with friends and family, O'Brien said.
The fire spread to the building next door and did minor damage to 12 and 8 Blossom St.
The commotion at the scene brought out lots on onlookers, including 19-year-old Wilder Street resident Ashley Labonville who said she saw flames when the firefighters cut open the roof.
"This is the first huge fire I've ever seen," Labonville said. "Not a lot of big things happen in this neighborhood."
Both Nashua fire officials said that the response to the fire consumed all the department's resources, including six engines and three ladder trucks.
Hudson Fire Department also responded and towns in Nashua's mutual aid system covered the Nashua stations, O'Brien said.