Fire station looking to expand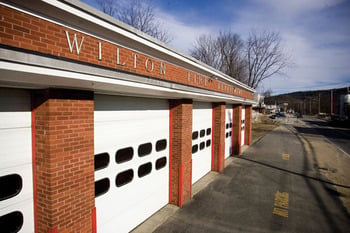 WILTON – Instead of adding three bays and an office onto the fire station, the town should purchase the nearby former Wilton Auto Station.
Selectman Richard Rockwood made that suggestion to the Budget Committee and about 25 residents Tuesday at the end of the town's public budget hearing.
In the end, the Budget Committee agreed to add an article for $300,000 to the warrant. Since there is already about $500,000 in capital reserve funds, that amount plus the warrant article would cover the current $795,000 asking price for the building and the lot behind it near Sacred Heart Church.
The building already has three large-enough bays plus several offices and an upstairs area that could become a training area, as well as existing fuel storage tanks, Rockwood pointed out. It is separated from the fire station by the two vacant lots previously purchased by the town for the fire station expansion, which would remain parking areas.
>>Town Meeting '09<< A second article was also inserted asking voters to add $300,000 to the fire station reserve account if the other article failed to pass. Officials plan to tour of the building today. Town Meeting is set for Friday, March 13, at 7:30 p.m., at which time the question will be voted on with the budget and other warrant articles. Should the money to purchase the building be approved, public hearings will still need to be held on the project. Even with the late addition of the fire station funding to the warrant, the proposed town operating budget and other warrant articles are still about $100,000 less than last year. The new total is $4,587,784. Budget committee chairman Cary Hughes said at the beginning of the hearing that his committee "had set out to reduce the budget" every way it could and planned "no additional capital outlays." Almost every town department saw cuts, with the final figures resulting in a decrease of more than 8 percent from last year's budget.