Fire destroys mobile home in Nashua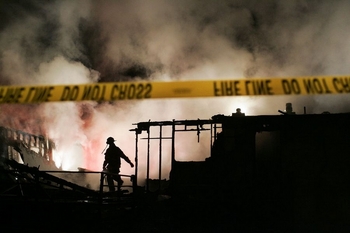 NASHUA – A fast-moving fire destroyed a mobile home off West Hollis Street on Wednesday night.
The fire broke out around 10 p.m. at 42 Fotene St. and quickly engulfed the building. The fire was fully involved when fire crews arrived, according to Deputy Fire Chief Michael O'Brien.
Crews managed only a partial search of the doublewide trailer before the heat became too intense, O'Brien said. Several neighbors reported hearing the windows shatter and by the time they looked, flames were already shooting into the sky.
"The flames were over the trees. I couldn't believe how high they were," said Arthur Gamache, who saw the fire from his house down the street. "It was unreal."
More than a dozen neighbors, some wrapped in thick blankets, wandered around the fire and police vehicles and yellow tape, watching the firefighters work.
Susan Dulac, who is friends with the owner of the burned home, said her dog, Molly, alerted her and her fiance to the fire. Just before 10 p.m., Molly started barking and wouldn't stop. When Dulac went to find the dog, she saw the flames.
"The place was engulfed," she said.
Her fiance, Bob Cartledge, ran across his back yard and tried to get inside to help, but was stymied by the smoke.
"By that point, there was no helping," he said.
Dulac and Cartledge said they hoped their friend, who they said lives alone with his dog, wasn't home at the time even though his SUV was in the driveway.
"He's a really nice guy, he really was," Carledge said. "Everyone will tell you that."
O'Brien wouldn't release the name of the owner or whether anyone was inside the home.
"We're in the very initial stages of the investigation," he said.
Ken Horton lives across the street. While his wife called the fire department, he ran across the street and tried to break a window to get in, but the heat and smoke were too much.
"It was just too hot," Horton said. "It was just so hot you couldn't get anywhere near."
Fire crews had the blaze under control in about 30 minutes, O'Brien said, but spent much longer on the scene dousing the building with water.
The east half of the building was gutted, the exterior walls were exposed and charred.
Fotene Street is part of a mobile home park called Pitary's Homes Inc., on Route 111.