Fire damages Nashua home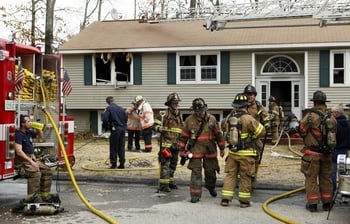 NASHUA – Two rooms of a local home were heavily damaged by fire Wednesday afternoon.
Nashua Fire Rescue companies responded to Radcliffe Drive a little after 3 p.m. for a reported building fire and saw fire showing from two sides of the home, according to Deputy Chief Michael O'Brien Sr. The first crew immediately entered the house and was able to contain the fire to two rooms, he said.
The rest of the house suffered moderate heat and smoke damage, O'Brien said. An occupant of the house and a firefighter were treated at the scene for minor burns, he said. O'Brien added that the cause of the fire wasn't immediately apparent and the city Fire Marshal's Office was on the scene.