Fire damages apartments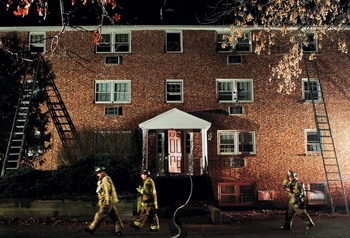 MILFORD – A two-alarm fire heavily damaged two apartments and displaced dozens of Milford residents Thursday evening.
At 5:02 p.m., reports of smoke coming from the walls of an apartment at Heritage Estates at 504 Nashua St. were called in via 911.
The first engine arrived seven minutes later and firefighters saw smoke coming from windows on the third floor of Building 9 in the complex, according to Milford Fire Chief Frank Fraitzl.
Crews encountered "significant fire" in two apartments. The fire apparently started in a wall separating the two apartments, he said. The fire was contained to that area, he said.
Fraitzl said there are about 24 apartments in the building. All residents were displaced for the night because utilities were shut off to the building. Fraitzl said he expected everyone except the occupants of the burned apartments would be allowed to return Friday.
Maintenance crews alerted residents of the apartments on the lower floor to the fire. Amanda Hazen and Elifas Assis called for a maintenance worker when they noticed water leaking into their apartment.
When the maintenance worker went upstairs to investigate, he noticed the smoke and pulled the fire alarm, Hazen said.
Hazen and Assis moved into their apartment this weekend from another of the development's buildings so they could be on the first floor. They still have the keys to their old apartment and planned to spend Thursday night there.
Marileusa Amorim also had water leaking into her bedroom and kitchen on the first floor. She said she also smelled gas and opened windows in her apartment before realizing she had to leave.
"I thought it was just something broken upstairs," she said. "It was scary."
Fraitzl said everyone was out of the building when firefighters arrived, and no one was injured. Crews did save a pet rat from one of the burned apartments. It sat in a large metal cage outside the large brick building Thursday night being patted by some of the passers-by.
Ashley Pushkarewicz, emergency services director of the N.H. Gateway Chapter of the American Red Cross, said the Red Cross assisted many of the 80 residents of the building Thursday night, finding them places to stay and providing toiletries and other necessities.
The Salvation Army and the Red Cross were on scene to help the victims.
Pushkarewicz said there would also be a service center set up at the development today with case workers on hand to provide further assistance.
About 60 firefighters, including all of Milford's companies, responded to the fire. Crews were also there from Mont Vernon, Bedford and Amherst. Brookline and Wilton crews covered the Milford station and responded to a box alarm, which was also on Nashua Street, around the same time.
Fraitzl said he didn't know how the fire started. The Milford fire prevention officer was on the scene to investigate, he said.