Fire crews evacuate office park over propane leak, spray tank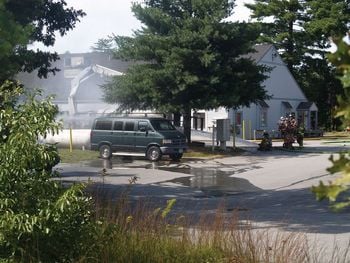 Fire crews from at least three towns responded to a propane leak that forced the evacuation of several buildings in an office park on Northern Boulevard on Tuesday afternoon.
Amherst Fire Chief Rick Todd said a valve broke on a 1,000-pound propane tank that was loaded on the back of a flat bed truck. Around 3 p.m., the tank was half-full. Firefighters were spraying the tank with water to disperse the vapors, Todd said.
No injuries were reported, and Todd could not say why the tank was leaking.
Witnesses said they noticed the leak around 2:10 p.m., and crews from Amherst, Milford and Merrimack responded to the area of 5 Northern Blvd.
Witnesses reported seeing white vapors in the area.
"The smell was horrible," said Kathy Blake, who owns a dance studio in the office park. Blake had just returned to work after running errands when emergency crews told her to leave the building.
"I came back just in time to get kicked out," Blake said.
People were evacuated to a grassy median between the office park and Wal-Mart. Some shoppers in the Wal-Mart parking lot watched the firefighters from a distance as they loaded their cars.
Bob Keaney was working in the office park when he was evacuated. He said there had been propane personnel working all day. When officials told him to evacuate, he merely left the building, but then they told him to cross the street.
The accident did not affect traffic on Route 101A. Police blocked off Northern Boulevard, but allowed people to leave via Route 101A.