Fire burns city home; two family pets killed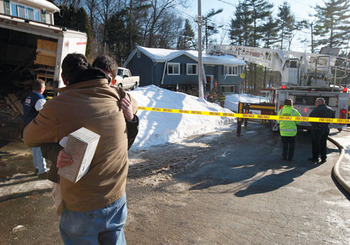 NASHUA – Ashes from the fireplace left in a plastic bucket started a fire that claimed the lives of two beloved pets and caused extensive damage to the family's home on Stanley Lane on Tuesday afternoon, fire officials said.
No one was home when the fire broke out, and no one was hurt, Deputy Fire Chief John Allison said.
A neighbor across the street called 911 at about 2:25 p.m. after spotting the smoke and flames, Allison said, and firefighters quickly called for a second alarm after finding heavy fire in the basement of the split-level home at 9 Stanley Lane, just off East Dunstable Road.
It took firefighters just 15 minutes to beat down the flames, Allison said, but by that time, there was extensive damage in the basement and heat and smoke damage above.
Family members gathered just beyond the yellow caution tape and mourned the deaths of Sammy, a 15-year-old beagle and golden retriever mix, and Kitty, a cat as white as the snow on the roof.
"Best animals I ever had in my life," homeowner David Gagnon said. "They were our world."
Although the house has hard-wired smoke detectors, Gagnon said, a fire in the middle of the night could have been much worse.
"Thank God it happened now, instead of while we were all in there together," he said.
The fire was the second blow to the family this month; last week, David Gagnon got laid off from his job as a machinist at Ferrite Co. on Northeastern Boulevard, he said.
Gagnon and his wife Patty Gagnon have lived on Stanley Lane for about 14 years, he said. Their son Chad also lives at home. They planned to stay with relatives until their house can be refurbished, they said.
The fire started in the basement, where some ashes from the fireplace had been left in a plastic bucket, Fire Marshal Rick Wood said. Wood said ashes from stove or fireplace should always be put into a covered, metal container, outside and well away from any buildings.