Finding eggs the easy part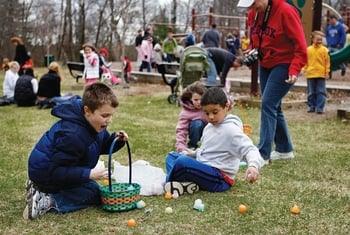 Hundreds came out to celebrate the 17th annual Easter Egg Hunt Saturday at Wasserman Park in Merrimack.
Laurie Foster's family has been coming to the event since its beginning. "It's fun for the kids," Laurie said.
Other Easter egg hunt events this weekend include the annual Amherst Easter Egg Hunt on Saturday at 10 a.m. on the Village Green and the Milford Easter Egg Hunt at Keyes Field at 11 a.m.
For a list of religious events, read Saturday'sTelegraph or find the listings in Neighbors at: http://www.nashuatelegraph.com/apps/pbcs.dll/section?category=neighbors01#rel
For Easter Egg hunts statewide check out www.nh.com/events.