Filmmakers follow Milford students in civics competition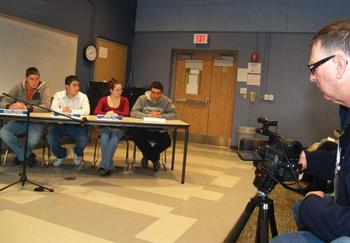 MILFORD – Milford High School's state championship-winning We the People Constitutional Law Team has caught Hollywood's attention.
Filmmakers are following students from around the country as they prepare for and compete in the national competition in Washington, D.C., in April.
"If there can be scrabble on ESPN, why can we show something that speaks to what being an American really is," asked Co-Executive Producer James Moxom of WTPfilms, who was in Milford the week of Jan. 26 filming the team practicing.
In the contest, teams of students testify in mock congressional hearings. A panel of judges asks questions pertaining to civics. The teams with the best answers get the most points.
Milford High School has gone to the nationals eight times out of the 11 years it has participated, according to coach Dave Alcox.
Milford has never ranked higher than 15th, but the students are setting their sights higher this year.
"If we get in the top 10 that would be amazing," said team member Stefan Sljukic, an exchange student from Montenegro.
The filmmaker's camera is an added motivation, according to some team members.
"It makes us focus more and strive harder to win," said senior Kyle Jackson.
Alcox volunteered his team to be a part of the documentary, but Milford was chosen because it's an interesting team, not just a winning team, said WPTfilms Co-Executive Producer Linda La Combe.
"You have an excellent school here," said La Combe.
WTPfilms is also covering teams in several other states, including Alaska, Colorado and Tennessee. It would be impossible to cover every team because of scheduling conflicts, said Moxom.
The WTPfilms documentary will likely be broken into two installments, Moxom said.
The documentary will be nationally televised, but La Combe said she could not say what outlets it's being pitched to.
WTPfilms has a contract with The Center for Civic Education, the organization that runs the contest, said La Combe.
For more information, visit www.wtpfilms.com.