Fill up on groundhog facts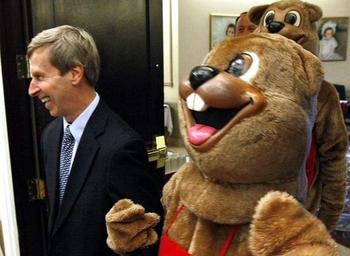 America's popular Groundhog Day, observed each year Feb. 2, has faraway roots that traverse centuries back to a time when nature did, indeed, dictate how we lived our lives.
According to "Groundhog Day: 1886 to 1992" by Bill Anderson, the tradition stems from beliefs associated with Candlemas Day and the days of early Christians in Europe.
For centuries, it was custom to have clergy bless candles and distribute them to the people. Even then, it marked a milestone in the winter, and the weather that day was important.
In Pennsylvania, the celebration of Groundhog Day began with the state's earliest settlers. They brought with them the Candlemas Day legend and its ditty, "For as the sun shines on Candlemas Day, so far will the snow swirl in May . . ."
In modern times, Groundhog Day is best known as the day that the groundhog comes out of his hole after a long winter slumber and looks at his shadow:
If he sees it, he regards it as an omen of six more weeks of bad weather and returns to his hole.
But if the day is cloudy and, hence, shadowless, he takes it as a sign of spring and stays above ground.
Punxsy Phil's beginnings
The most famous groundhog, Punxsutawney Phil, is believed to have been "born" in 1886, when The Punxsutawney Spirit, a newspaper based in the western Pennsylvania town that would become the groundhog capital of the world, is said to have printed news of its first Groundhog Day observance.
The next year, the legendary trek to Gobbler's Knob, a remote woodsy spot about 3 miles from town, took place for the first time, effectively birthing the long-standing tradition that today attracts tens of thousands of revelers who come from all over the world to stand in frigid, pre-dawn darkness to dutifully await Phil's daybreak appearance.
This will be the 123rd Groundhog Day trek to Gobbler's Knob. Tradition has it that each year, Phil appears precisely at daybreak, which comes at just about 7:25 a.m. this year.
Fun Phil facts
Punxsutawney Phil was named after King Phillip. Prior to being called Phil, he was called Br'er Groundhog.
Phil gets his longevity from drinking the "elixir of life," a secret recipe. Phil takes one sip every summer at the Groundhog Picnic, and it magically gives him seven more years of life.
On Feb. 2, he speaks to the Groundhog Club president in Groundhogese, a language only understood by the current president of the Inner Circle. His proclamation is then translated for the world.
Some of Phil's high points
During Prohibition, Phil threatened to impose 60 weeks of winter on the community if he wasn't allowed a drink.
In 1958, Phil announced that it was a "United States Chucknik," rather than a Soviet Sputnik or Muttnik that became the first man-made satellite to orbit Earth.
In 1981, Phil wore a yellow ribbon in honor of the American hostages in Iran.
Phil traveled to Washington, D.C., in 1986 to meet President Reagan. He was joined by Groundhog Club President Jim Means, Al Anthony and Bill Null.
Phil met Pennsylvania Gov. Dick Thornburg in 1987.
In 1993, Columbia Pictures released the movie "Groundhog Day," starring Bill Murray. In the years following its release, record crowds numbering as high as 30,000 have visited Gobbler's Knob.
In 2001, Phil's prediction was shown live on the JumboTron at Times Square in New York City. Pennsylvania Gov. Ed Rendell attended the ceremonies, making him the first sitting governor ever to do so.
Phil appeared on "The Oprah Winfrey Show" in 1995.