Fence poses parking problem for Nashua couple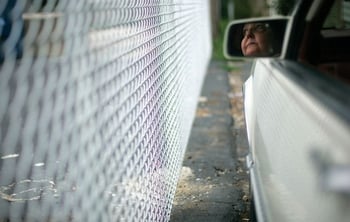 NASHUA – Rick and Debbie Bourassa are on the verge of celebrating 25 years of marriage. Ten of those years they have shared with their Doberman pinscher, Jake.
The dog has been a source of pleasure and comfort for the Bourassas, who haven't had much of either over the last decade.
"The last seven to eight years, it's been pretty rough," said Debbie Bourassa, 49, a sufferer of interstitial lung disease and heart disease. Rick, 52, suffers from heart disease and has end stage emphysema. He can barely walk.
In 2004, the couple lost everything in an apartment fire in Lyndeborough. They stayed in hotels for nearly a year before moving into their current 37½ Whitney St. apartment in April 2005.
The Bourassas are grateful for their apartment. The place is small, but it's all the couple can manage considering their taxing health conditions. Even cleaning up after Jake has been become a difficult task for Debbie Bourassa to manage.
"Good Lord, I wish he didn't crap so much," Bourassa said wearily.
It is Jake's doo-doo, she says, that is at the center of a parking lot dispute with her neighbors at the Upper Room Ministry.
The parking lot of the volunteer Christian organization borders the Bourassa's parking area. According to the Bourassas, Upper Room President Katy Petrini and her husband Ed have continually pestered them about the piles of excrement that Jake leaves on the asphalt outside the Bourassa's back door.
Two weeks ago, Ed Petrini placed a chain link fence between the two parking areas, leaving enough room for Bourassa's sedan but not much more.
"I can pull in, but I can't get out of the car," Debbie Bourassa said, explaining that she and Rick desperately need the parking space due to their conditions.
"That was done maliciously," she said.
On Tuesday, Katy Petrini denied that the placement of the fence was an act of vengeance, stating that the organization was in the process of constructing a drive-through lane in their parking lot that would lead cars from Whitney Street to Tolles Street.
The idea, Petrini said, is to make it easier for people to donate to the Upper Room's drop off boxes and areas that are at the rear of the building.
"We have been very good neighbors," Katy Petrini said, adding that she and her husband have worked with the Bourassas, not harassed them, for two years to try and get a solution to the dog mess situation next door.
"Sometimes there is 10 piles out there, and in the summer, it is just abhorrent," Petrini said.
And while Jake hasn't harmed anyone, Petrini said the dog barks at Upper Room patrons when Bourassa ties the dog up in the parking lot to do its business.
"Not that I think the dog would hurt anyone, but you don't know," she said.
Debbie Bourassa said she cleans up the dog doo twice a week, but cannot do it every day because of her condition.
She said throughout the year Ed Petrini has come to her door and yelled at her about Jake as well as a broken down car she used to have parked in her driveway.
Petrini has even sent animal control and police officers to her home, she said.
The pestering has been so bad, Bourassa said, that earlier in the year she had to leave the hospital where she was being treated for pneumonia because Ed Petrini was allegedly bothering her sick husband. When she got home, she said police had ticketed her car "abandoned."
Ed Petrini denied harassing Bourassa and said it was Debbie who was rude.
"She is nasty to me, and she's nasty to the cops," he said.
Regarding the space left for Bourassa to park her car, Petrini said he actually placed the fence within the actual property line, giving Bourassa an extra eight inches.
Bourassa said she needs at least another foot to be able to use the space. "Part of the reason we took this apartment was because we were told we would have parking," she explained.
Last week, after getting a $25 parking ticket for parking on the street overnight, Bourassa informed her landlord that she would take the cost of the ticket and any future tickets out of her rent, since she had no other way to pay them.
On Friday, Bourassa's landlord, Doug Carroll, said he was going to check the property line measurements with city officials.
"They told me for a while that they were going to paint a line. Then, all of a sudden this fence goes up," Carroll said.
In the meantime, Carroll has rented Bourassa a parking space from the Petrinis at $1 a day. The Petrinis rent other spots in the parking lot, they said.
While the parking spot will help her avoid tickets, Bourassa said it is still too far from her apartment, and because of that, she and Rick will have to find another place to live, a task made even more difficult because of Jake.
"I feel that because they are an organization that helps the poor, they knew that it was cruel to do this," Bourassa said.
"I know it is their property, but why couldn't they have put the fence in so that I could park and get out of my car?"