Fans of teen book 'Twilight' line up for midnight movie release Thursday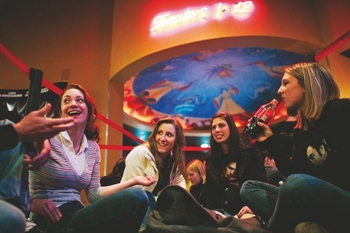 Caitlin Chiquelin had a plan. She and her friends would hop a private jet to Los Angeles. They would ride in a limousine to the premiere of "Twilight," the just-released vampire/love-story flick that is taking many of the nation's teenagers by storm.
Then they'd eat dinner, attend glitzy after-parties with the stars, die and go to heaven – all for a mere $9,000.
Chiquelin, 17, of Hudson, was serious when she recently proposed the plan to her mom – all except for the dying part.
In exchange, they offered to ditch prom. Turn in their life savings. Work three jobs this summer. Whatever it took to see the big Hollywood premiere.
Alas, Chiquelin lamented, the plan didn't work out.
"If the economic situation were different, and if we did not have to pay for college next year, we would have gone," Chiquelin said by e-mail. "We are very dedicated fans."
Instead, Chiquelin and her friends settled for attending the midnight opening of "Twilight" Thursday at the local theater – along with hundreds of other teens who proudly call themselves "Twi-hards."
Eighteen -year-old Vera Greene, of Nashua, waited in line with friends for three hours at Cinemagic in Merrimack on Thursday night.
"I'm not obsessive," said Greene, who is a high school columnist for The Telegraph. "But I'm a big fan. I like a good love story."
So, it appears, do plenty of teens, who packed Cinemagic and sold out two theaters for the midnight opening.
Mike Mannetta, marketing director for Chunky's Cinema Pub, said the film's sudden popularity caught him off-guard.
"It took us by surprise," Mannetta said. "We didn't expect it to be this busy. All of a sudden, the film was getting a lot of press . . . The biggest thing for us was to make sure we got a copy of 'Twilight.' "
Los Angeles Times entertainment writer Patrick Goldstein called "Twilight" an "approaching pop-culture tsunami" that is "poised to spawn one of the hottest Hollywood literary franchises since 'Harry Potter.'
The film is based on a four-book series by Stephenie Meyer, the second of which debuted at No. 5 on The New York Times' best-seller list for children's books upon its release in 2006.
The fourth installment sold 1.3 million copies in its first day of release. The entire series has sold 8.5 million copies in the United States and more than 17 million copies worldwide.
According to Greene and some of her friends, the phenomenon became contagious this summer.
"After the first 30 pages, you become pretty much anti-social," Greene said. "I read all of (the books) in a course of one and a half weeks."
"My mom's wicked into it," said Eva Nutter, 17. "She was bored one day and picked it up. The next day, she was like, 'Where's the next one?' "
Some teens said they like the series because of the intriguing relationship between the two main characters: Edward Cullen, the good-hearted vampire played by Robert Pattinson, and Bella Swan, the independent spirit played by Kristen Stewart who falls in love with Cullen – despite his icy-skinned, blood-sucking ways.
"Generally I'm not a fan of the romance stories, but Twilight adds a new exciting twist," wrote Mallory Sullivan, a Souhegan High School student, in an e-mail.
"It has the love story intertwined with action, and suspense, and it was almost impossible for me to put down."
"It is a terrific plot – the story of the 'forbidden romance' that any girl would like to experience," Chiquelin said. "It is not just about good girl and misunderstood boy falling in love. 'Twilight' offers a twist – vampires."
In lots of teen series, you get the typical "cheerleader and jock" love story, Greene said.
"This time, she's smart and independent, and she fell in love with someone she wasn't supposed to," Greene said. "It's like a modern-day Romeo and Juliet, in a weird, supernatural version."
Plus, in the film, Cullen is played by the swoon-inducing Pattinson, perhaps best known for his role as Cedric Diggory in the "Potter" films.
"I was absolutely in love with him when I read the book," said Katie Sousa, 17, of Nashua.
"I could live with him forever."
Some teens said most of their guy friends can't stand "Twilight." Count Mayesha Quasem, a Nashua South student and Telegraph columnist, in the group of people finding themselves in the "Twilight" minority.
"My friends and I have almost-daily fights where I bash the books and they support them," Quasem wrote in an e-mail.
"Really, with the movie coming out soon, it's practically a war!"
While the teens in Greene's group unanimously loved the books, reviews of the film were mixed after Thursday's premiere.
"I'm disappointed," Greene said. "All the important parts got screwed up and out of order."
Others said some of the characters were badly cast, and some moments were "corny."
On the other hand, "I liked how it played out," Sousa said. "It was more fast-paced because it had to be that way."
For Chiquelin, the midnight premiere was just the beginning of a three-day "Twilight" gorge.
By the end Monday, she and her friends hope to have seen the vampire and his girl at least four more times.