Fans enthralled with last NE appearance by Babe Ruth's daughter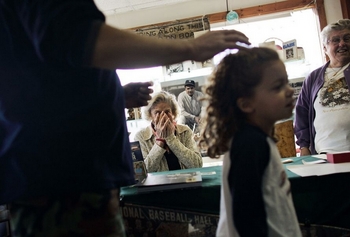 MILFORD – When Jose Menendez left Guatemala for Boston in 1988, he rented a small room on Beacon Street and took a job at Fenway Park.
He didn't speak English. He didn't know what baseball was. And he certainly had never heard of The Great Bambino.
Twenty years later, Menendez is now a "huge" baseball fan, a passion he has passed on to his 9-year-old son. And they both love Babe Ruth, having collected encased baseball cards, special pictures and other memorabilia.
Saturday was a crowning achievement for Menendez, who came face to face with Ruth's daughter, Julia Ruth Stevens. She was at Mori Books in her last New England public appearance. Stevens, 92, is moving to Arizona, and doesn't plan to return to the East Coast.
Listen to Julia Ruth Stevens speak about her father Babe Ruth

Stevens obliged many hugs, pictures and autographs in her appearance, as about 40 people crowded the bookstore in the afternoon to meet her and get copies of her latest work: "Babe Ruth: Remembering the Bambino in Stories, Photos & Memorabilia."
"She's the last of the baseball royalty, back when there was style and real figures," store owner Richard Mori said. "Babe Ruth was king of baseball. She's his princess."
Mori managed to snag Stevens, a longtime North Conway resident, because the two worked together at a hardware store in the 1960s. She worked in the clothing division, and he in the hardware section – and also, as Mori put it, as the "16-year-old gopher."
Stevens, he recalled, taught him to wrap Christmas presents for customers in a precise, exacting way.
"I still do it the same way," he beamed to the crowd.
"Well, I haven't got one lately," Stevens cracked.
Her presence had many in the eager audience waxing of baseball days gone by.
"One of the things that intrigues me is that the players did it because they love to play, more than today," said Michael Bonetti, of Merrimack. "Now, it's more commercialized."
Bonetti's father-in-law, Philip Sugg, 83, of Portland, Maine, said his father was a Yankees fan who used to send him postcards reminding him New York "was always a good bet."
But the younger Sugg always supported the Red Sox.
"We used to go out (to Fenway) on weekends, take the Sunday paper and watch the ballgame," Sugg said of his college days, adding this his wife, an even greater Boston fan, got doubleheader tickets as a high school graduation gift.
Mary Seagroves, of Lyndeborough, surprised her husband, David, with the book as an early Christmas present. He's a longtime Red Sox fan, and he recalled when bleacher seats cost 75 cents. The couple brought along their youngest grandchild, 3-year-old Maddix, for photographs with Stevens, and they plan to pass on the lore as he grows older.
"This is a special event because Babe Ruth is still, probably to this day, the greatest ballplayer who ever lived," said Tim Soucy, of Milford.
"It was definitely a thrill to shake her hand," said his son, Sean Soucy.
"She's witty," added Ciara Tiner, of Brookline. "She lives young."
And for those who were wondering, the Babe's daughter has been rooting for Boston for at least 10 years.
"I was a Yankee fan for all my – goodness alive – at least 40 years," Stevens said. "And I just began to feel sorry for the Red Sox, and they kept talking about 'the curse' and so forth and so on. And I said to myself, 'The Yankees have won so many pennants and so many World Series, and poor little old Boston hasn't won since Daddy left the team.
"So I started pulling for the Red Sox."
That fact satisfied the crowd, and especially Menendez.
He pulled Stevens into a hug on behalf of his 9-year-old son, who is also a Babe Ruth fan.
He couldn't be there Saturday. He was playing baseball.