Family's business gives son a job – but also a purpose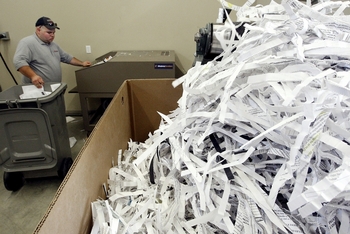 HUDSON – Of all the reasons to start a business, Todd and Julie Hansen's falls squarely in the category of nontraditional. The Hudson couple is not concerned about making money, as long as the business breaks even.
Earlier this year, the Hansens opened Confidential Shredding, a document destruction company, with a sole purpose: to give their son the opportunity to have a productive, meaningful adult life.
Joshua Hansen, 20, had a stroke during birth that left him with a permanent brain injury. He also has a condition called intractable epilepsy, which causes almost constant seizure activity in his brain.
After a big seizure, he becomes disoriented and needs to sleep.
"Because of the medical issues, he'll never have a regular job. It's just not going to happen," Julie Hansen said.
Yet, Joshua Hansen is a workaholic, his parents say, and one of his favorite activities is shredding paper. The couple created the company to give Hansen a structured daily activity when he turns 21 and can no longer attend high school.
The Hansens officially opened up shop in February. Todd Hansen, a captain with the Hudson Fire Department, and Julie Hansen, a practice manager for Foundation Medical Partners, spend much of their free time at the new office at 98 Old Derry Road in Hudson. "If I'm not at work, we're here. We're here Saturday and Sunday," Todd Hansen said. "Whatever it takes to get the job done."
Mid-morning last Friday, Julie Hansen left to go back to work, while Todd Hansen planned to stay until his shift at the first station at 5 p.m. The family also has help 10 or so hours a week from Hansen's cousin, 19-year-old Corey Morin.
Confidential Shredding's new digs are part office, part warehouse. There's a single desk situated near the door of the office. Behind a cubicle-like partition, there's a futon specially designated for Hansen's naps, which come with very little warning.
The warehouse is larger, with tall ceilings, machines, concrete floors and barrels of shredded paper. The shredding machine is equipped with a special safety feature that prevents Hansen from sticking his arm inside.
Last week, Hansen and his cousin stood in the warehouse ripping pages from a phone book and dumping them into a huge grey bin. Hansen, wearing a polo shirt identical to his father's, with the Confidential Shredding logo embroidered on the front, sipped iced coffee as he worked.
The idea to start the business actually came from Hansen's 21-year-old sister, Kaleigh Hansen, who works at Gateways Community Services in Nashua, a nonprofit that promotes independence for people with developmental disabilities. The family had wondered for 10 years what Hansen would do after high school, Todd Hansen said.
Shredding emerged as the logical choice: Hansen loves to shred documents so much that he once fried the Hansens' at-home shredding machine.
"You had to be careful with what you left out," Julie Hansen said.
The Hansens started doing research and found out that document shredding was actually a viable business. The demand for the service has increased right along with the crime of identity theft, Todd Hansen said.
The Hansens cater to businesses and private consumers and are building a solid customer base. They've already shredded several tons of white paper, Todd Hansen said, in addition to destroying and disposing of computer hard drives and electronic devices. When they're done shredding, the paper scraps get trucked to Massachusetts for recycling.
Although the business was created for their son, the Hansens say they're taking the job seriously, treating sensitive and confidential information like any other document destruction company would. They've had to prove that so far in order to win customers.
"People weren't ready to just say, 'Yeah,'" Todd Hansen said. "We had to prove to them that we could provide the same service as other companies."
Making money would be a bonus, but it's not a necessity.
"We want the business to sustain itself, but the ultimate goal is to give him a sustainable, meaningful adult life," Julie Hansen said.
Eventually, if the business takes off, the family would like to offer jobs to other Alvirne High School kids with developmental disabilities as part of their transitional training for graduation.
As for how he likes the job, Joshua Hansen keeps it simple: "Better than some other jobs," he said shyly, before returning his attention to work.
Todd Hansen added: "It's been a learning experience, but he's catching on . . . If we're not here, he's asking when we're going."