Family says teen left a legacy of happiness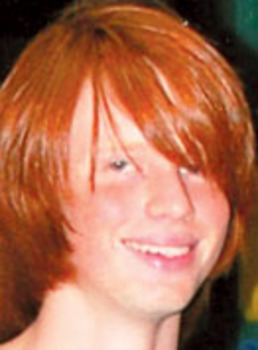 MILFORD – Alex Betty loved to drive around town in his black Subaru Forester while wearing a big stars-and-stripes top hat and oversized sunglasses.
His parents say Alex, 16, a sophomore at Milford High School, enjoyed making people laugh.
"He thought everyone should be happy and everyone smile," said Alex's father, Eric Betty.
On Tuesday, Eric and Kristin Betty took some time to remember their son, who was killed April 27 in a single-car accident on Route 13 in New Boston along with his friend, Gage LaFontaine, 16, of Milford. The driver, Gino Olsen, 16, of Milford, remains in Children's Hospital in Boston, where he has been upgraded to serious condition.
If this were a normal week, Alex would be driving to Keyes Field for some skateboarding, or out to a baseball game or another sporting event. If it wasn't nice out, he'd be off to a friend's house. And if he wasn't with friends, he'd be heading to his job at Papa Gino's in Nashua.
Alex would joke about being the nice Irish boy who made the Italian pizza, his parents said.
Sports were a big deal to Alex. In fact, he and his cousin, Robbie Taylor, 17, of Haverhill, Mass., made up their own game, called Tree Ball.
Taylor explained that Tree Ball even had its own eight-page rule book and logo.
There were about 10 people in Alex's tight-knit circle of friends in the Milford area, his parents said.
"They were a band of brothers. We called them the brat pack," said Kristin Betty, who added that her family prays for Olsen daily.
Because of his quick wit and penchant for debating reasons why things should go his way, Eric and Kristin used to say their son would make a good lawyer. He was also a big talker. Once he learned to speak he never stopped talking, his parents said.
But Alex had a backbone, too. He was known to protect other kids against bullies even though he wasn't that big himself, said his parents.
Kristin also recalls how Alex loved water. He'd swim till his lips were purple and would refuse to admit he was getting cold, Kristin said.
Beneath the goofy and fun-loving exterior was a boy who loved animals, including his family pets – a dog, a rabbit, a turtle and even a lizard.
Kristin said she's been grateful for the community support. People have been bringing by food and total strangers have been hugging the family. The school has also been in constant communication, too.
"You really don't know what kind of community you live in until a tragedy like this happens," Kristin said.
The Bettys have created a scholarship fund in Alex's memory. Donations can be made to the Alex Betty Scholarship Fund care of Citizens Bank, 173 Elm St., Milford.