Family reacts to 'Supernanny' show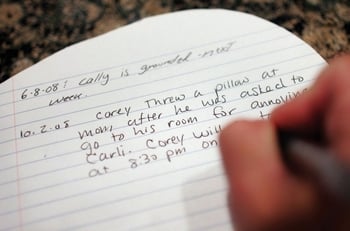 There was a lot of laughter in the Quinn household Friday night as they watched their weeklong family therapy session along with millions of others.
The Quinns were the subject of Friday's season premiere of the "Supernanny." British nanny Jo Frost spent five days with the family helping it deal with several issues affecting the family, particularly the four kids' behavior and how their parents, David and Gina, dealt with it.
Before the intervention, David and Gina Quinn admitted they had lost control of their kids, Cally, 16, Casey, 14, Corey, 10, and Carli, 9. Swearing and fights were commonplace.
Since then, the Supernanny has given the Quinns tools to better discipline their kids and, as a result, better enjoy the time together.
"It was awesome. We really enjoyed it," Gina Quinn said of the show, which aired at 9 p.m. on ABC. "We really laughed a lot just to see our reactions."
Gina Quinn said a lot more went on during the week than viewers saw during the hour broadcast, but producers captured the overall flavor. "So much more took place, tons of interaction," she said. "This was the highlights and they did a really nice job putting it together."
You can read more about the Quinn family at nashua telegraph.com.